Sign In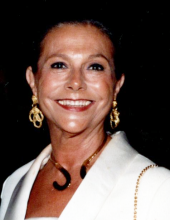 Isabel M. Benjamin
Isabel M. Benjamin, age 93, of Flemington, NJ passed away of natural causes on Wednesday, January 6, 2021 at Independence Manor. Born in Long Beach (Long Island), NY on April 1, 1927, the fourth daughter of Guglielmo and Elena Bonano Quattrocchi, Isabel lived a life filled with love and laughter. Her dad, "Willie," was an Italian immigrant who never spoke English. He was the outdoor maintenance man at Long Beach High, where Isabel went to school. It was during those years, that friends convinced her to enter a beauty contest where she was crowned "Miss Long Beach." It was right around that time she met S. Rodgers "Sid" Benjamin, a lifeguard on the beach. They fell in love and never looked back. Sid went off to World War II and upon his return, they got engaged. As they came from different backgrounds, parents on both sides objected. So, they eloped the day after Sid's 21st birthday. They were married for 71 years. Already married, Sid went to the University of Miami on the G.I. Bill. To help cover expenses, Isabel worked as a model. After college, Sid's dad asked him to help out at the Fur Factory in Flemington "for six months." Six months became 65+ years in a town they grew to love. Sid worked his way up to President of Flemington Furs, a soon to become world renown business. Always fearless and always proud, having come from nothing to experiencing wealth, Isabel was totally unintimidated by money, fortune or fame. How you treat people mattered most and there was no fooling her. If you put people down, she'd call you right out. On the other hand, if you liked to laugh and were able to laugh at yourself, you'd be in for an unforgettable time! Back in the day, Flemington was a rural town. As "class mother" of her son's first grade class, Isabel took a wrong turn and ended up in a classroom jammed with "special needs" kids of all types and all ages. She asked the teacher: "Who are these kids?" He said, "these are the kids no one else wants!" That wrong turn, turned into Christmas dinner at Isabel's house for all of them, complete with Santa Claus and the biggest bag of presents you ever saw and it became an annual event at the Elks Club. From there, it became "Camp Isabel" a summer camp for "special needs" and "underprivileged" children on that teacher, Jake Riesberg's, three-acre property in Kingwood. Kids from all over Hunterdon County came to camp by bus every weekday of the summer, free of charge. Isabel had the entire community involved in fundraising for this worthy cause. It became a symbol of pride for all involved. And nothing was more convincing than seeing those camper's race to her for an endless hug. Isabel was predeceased by her beautiful daughter, Gina, and her ever-loving husband, Sid. She's survived by a wonderful daughter, Pamela Gale; a son Bob and his wife, Isabel's much-adored daughter-in-law, Mary; her proud grandsons, Shawn and Terence (his wife, Leah) and her lovely granddaughter, Annie Grace. Due to the times, a private, family-only funeral will take place. A celebratory luncheon will be scheduled sometime in the late spring or summer. All are welcome. Arrangements and all special requests from the family have been handled by Holcombe-Fisher Funeral Home, 147 Main Street, Flemington NJ. Memorial contributions may be made to Hunterdon County Special Olympics, c/o Kathy Creveling, 213 County Road 513, Glen Gardner, NJ 08826. For further information or to leave an online condolence, please visit www.holcombefisher.com.
April 1, 1927
-
January 6, 2021
04/01/1927
01/06/2021
Recommend Isabel's obituary to your friends.
Y
Your friends at Critical Math
January 19
We are thinking of you during this difficult time.
G
George Dobozynski
January 14
We are very sorry for your loss. George Dobozynski and Family
B
Barbara Funk Kuhlman
January 12
My sincere condolences to the Benjamin family on the loss of Isabel. She was a gracious lady who was admired by many. May she rest in peace with her beloved Sid, who was my first employer.
I had the honor of volunteering with Isabel at Camp Isabel and the International Food Festival. I got to know a very generous, loving and kind person who loved making a difference for others and had a wonderful smile and laugh. My heartfelt thoughts and prayers to Bob,...
Continue Reading
She was kind, loving, always out to contribute to people's lives...and had a great sense of humor. Thoughts and prayers to Bob, Mary and the whole family. Al Zdenek
Condolences to a great family on the loss of a great lady!
I am sorry for your loss your Mom was beautiful kind sweet warm charming Lady always smile always happy I had a lot good memories with her . Rest In Peace Eva Alex Pisowicz
Dear Bob and Family, We were saddened to hear of your loss. You Mom's beautiful light and legacy continues to shine through you and those she touched. May God comfort you and give you peace. With our deep sympathy, Terry and Skip
Our Condolences to Bob & Mary and the Benjamin Family. What a gracious, beautiful women, so glad we got to know her & she truly was a gift to the community. Our loving thoughts, Carol, Norman & Morgan Todd
Berthanne Sautner
January 8
I was a medic and was the "Camp Nurse" for Camp Isabel in Baptistown for a season. The kids that went there were afforded every comfort that they could have asked for from the Benjamins. She was a gracious and very beautiful woman, inside and out. Rest in peace, Lovel...
Continue Reading