Sign In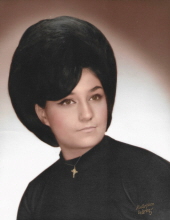 Christine Herrera
Christine Peters Herrera, 72, originally from New York, NY, was born on December 15, 1948 and joined her mother, Tessie, in heaven on December 17, 2020. She leaves behind her brother, Van Peters, of Boca Raton, FL and his family; daughter Odessa Schmid of San Angelo, TX (husband Drew) and grandchildren Nathan and Chloe; daughter Angela Anderson of Boston, MA (husband Paul) and a baby granddaughter on the way; son Anthony Herrera of San Antonio, TX (wife Wendy) and grandson Gabriel; son Michael Herrera of New Braunfels, TX (wife Courtney) and grandchildren Jaxon and Cora; daughter Eileen Gamboa of Richmond, TX (fiancé Isaac) and grandchildren Jacob, Jaden and Juliana; and countless family and friends. Tina grew up in Queens, New York, where she proudly attended Greek School as a child (with the occasional escape, only to be taken back by her parents). She later moved to Connecticut to live with her grandparents, where she graduated from Norwich Free Academy in 1966. Tina raised her five children and cherished her grandchildren in San Antonio, Texas, where she worked for St. Pius X School for 25 years. Tina was a friend to everyone, a strength and force like no other, and the best Mom and Yia Yia. Her greatest wish was that her family remember her by staying together, dancing, laughing, cooking Greek food, waving to the real Santa in NYC every year on Thanksgiving Day, and always Believing. Her infectious laugh will continue to be heard from everywhere. All celebrations of Tina's life will be livestreamed for loved ones afar and for those who wish to honor her life while remaining safe during these unprecedented times. ROSARY January 7, 2021 6 p.m. Porter Loring Mortuary North MASS January 8, 2021 10:30 a.m. St. Pius X Catholic Church Interment to follow at Holy Cross Cemetery Tina was not only a dedicated employee of St. Pius X School for many years, she was also a parent of five children who graduated from St. Pius. If you prefer to make a donation in her name instead of sending flowers, may we recommend a donation to the St. Pius X Catholic School Guardian Angel Program. This program helps families for whom a Catholic school education may be financially challenging. Donations may be sent in her name directly to St. Pius X Catholic School, Guardian Angel Program, 7734 Robin Rest, San Antonio, TX 78209. <iframe width="100%" height="500" scrolling="yes" align="middle" frameborder="no" allowfullscreen src="https://admin.mediafusionapp.com/_live/eventPlayer.php?eventId=2097_10272" name="frame1"></iframe> To virtually attend Christine's funeral mass at St. Pius X Catholic Church, please watch via their YouTube Channel or Facebook Page using one of the links below. YouTube: https://www.youtube.com/channel/UCAz5HdPnVAwpFT1VWDmgBOQ Facebook: https://www.facebook.com/SPXSA
December 15, 1948
-
December 17, 2020
12/15/1948
12/17/2020
Recommend Christine's obituary to your friends.
P
Porter Loring Mortuaries
December 21, 2020
P
Pat Badillo-Garner
January 8
Prayers for Tina and her family. I will always remember her greeting me with a big smile and a big hug. And she would always bring Charlotte my granddaughter a Christmas gift. Charlotte found out Tina was in the hospital she was saying prayers for her and when Jenn tol...
Continue Reading
Heart was posted for Christine Herrera.
I am so sorry about the loss of your dear mother and grandmother. Tina was such a wonderful lady. She was an inspiration to me and so many others. May she rest in peace. Your family is in my prayers. God bless you all! Eileen Pape
Heart was posted for Christine Herrera.
Her mass is on Facebook https://www.facebook.com/SPXSA
Oh boy do l remember Tina.there was no one like her. She could talk like no other person I've ever met.Tina ,Helen and I were friends through high school and after until the day she left CT to go to Texas to get married .She was an admirable mother and will be missed.Ple...
Continue Reading
Sending prayers to the entire family. Our condolences. Donna and Billy Davis
A candle was posted for Christine Herrera.
D
Deacon Pat Cunningham
January 7
Thank you to Christine's family for the privilege of serving you by leading the evening service on January 7 and the interment on January 8. God bless you and Christine forever.
Thank you to everyone honoring our Mom. Please note the rosary and burial livestream links are hosted by Porter Loring, but the mass livestream is hosted by Saint Pius X Catholic Church. To virtually attend Christine's funeral mass at St. Pius X Catholic Church, please ...
Continue Reading
This is a tribute video I created for our loving mother of 5, YiaYia of 9, sister to 1, relative and friend to so many.

https://youtu.be/Eu8Vnxo5Dhg