Sign In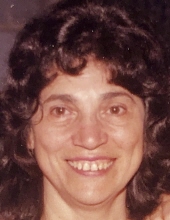 Camielle Rose Schumacher
Camielle Rose Schumacher, 95 years old, of Marriottsville, MD went home to be with Jesus on December 9th. She was the wife of the late William Howard Schumacher, Sr. (WWII veteran). In addition to her husband, she was preceded in death by her parents Luigi and Katherine (Catrillo) D'Adamo, son William Howard Schumacher. Jr., and son-in-law John C. Neal. The child of Italian immigrants, she was the last of thirteen siblings, all of Jersey City, NJ. She was a gifted artist and was known for her hand-drawn, personalized Christmas and greeting cards. Camielle was a devoted member of Messiah Lutheran Church in Sykesville, MD. Proud of her Italian heritage, she was a great cook and a dedicated member of the Sons of Italy. A highlight of her life was visiting her relatives in Italy and maintaining a longtime relationship with her Italian family. She was one of the founding members of the Freedom Recreation Council and a journalist for the Sykesville Herald in the 1970s. Camielle was active in community service, including teaching and Alzheimer's family care. She will be remembered for showing love and kindness to everyone she knew. She was a devoted wife, sister, mother, grandmother, great-grandmother, aunt, and friend. She is survived by her children Janice Neal, Jim Schumacher (Lynn), Karen McDermott (Brian), Martin Schumacher (Trish), Camille Restione (Dave); daughter-in-law Linda Henn; grandchildren Jimmy Schumacher Jr. (Jiyeoun), Jodee Aquino, Jennifer Brown (Tony), Jessica Barnes, Jared Schumacher (Patina), Jamin Schumacher, Laura McCann (Adam), Rachael Riston (Josh), Daniel Neal (Cathy), Eric Neal (Kara), Joseph McDermott, Angelina McDermott, Stephen Schumacher (Dana), Lauren Toscheff (Matt), Michael Schumacher, and 20 great grandchildren. Friends and family are welcome to attend visitation on Monday, December 14th from 10 to 12 pm at Pritts Funeral Home and Chapel, 412 Washington Rd., Westminster, with funeral services beginning at 12 noon. For those wishing to virtually attend Camielle's service, please visit www.prittsfuneralhome.com and choose the Livestream link on the homepage, or go to her individual obituary & events page where you will find a link to her virtual service. The livestream will begin a few minutes prior to the start of the service. Private interment will be at Highland View Cemetery. A virtual celebration of life is planned for the near future. In lieu of flowers, donations may be sent to Messiah Lutheran Church 5600 Old Washington Rd., Sykesville, MD 21784. Online condolences may be offered to the family at www.prittsfuneralhome.com.
July 8, 1925
-
December 9, 2020
07/08/1925
12/09/2020
Recommend Camielle's obituary to your friends.
F
Funeral Home Owner
December 14, 2020
L
Lisa Rhodes
December 14, 2020
An absolutely incredible lady... I am so proud to call her "Aunt Camielle". I think back on the 4th of July picnics as a child and food and fun we had. I will always cherish the memories and know that I'm a better person for knowing her and the Schumacher Family!
J
Jim Reiter
December 14, 2020
Jim and I have very fond memories of Camielle. She was an extremely kind and thoughtful neighbor. Her Christmas cards were sincere and artistically made. We were also fortunate enough to enjoy some of her fantastic cooking. Our condolences go out to the Schumacher fami...
Continue Reading
D
DeLeonardo's
December 12, 2020
What can we possibly say about our dear Aunt MiMi that would show how loved and appreciated she was. She was responsible for so many pleasant memories of our childhood and beyond. From Glen Avenue to Marriotsville Road she and Uncle Bill would welcome my mother and he...
Continue Reading
M
Marilyn Restione
December 11, 2020
Beloved Camielle In our hearts.....long and lovely memories Marilyn and Dan
Mountain Fields was purchased for the family of Camielle Rose Schumacher.
Kimm Rowan
December 11, 2020
Very sorry for the loss of your mom. I was blessed to have known her and one thing I will remember will be her hand drawn Christmas cards. She was a wonderful and talented person who will be missed. Kim G.
F
Frank Wanken
December 11, 2020
Dear Jim and Family, Please accept our sympathy for the passing of your mother. Camielle was a talented lady who lived a long life. God Bless Camielle. Frank and Joan Wanken Highlands Ranch, Colorado
L
Love, John & Debbie Canty
December 11, 2020
With our deepest sympathy. Your mother was so very special. We are happy that we got to meet her & know her a bit over the years.
Monet's Garden Basket was purchased for the family of Camielle Rose Schumacher.
R
Richard DAdamo
December 10, 2020
Aunt MiMi I Will miss you so much I love you I will miss our weekly phone calls From your nephew Richie and Jackie
Blue Skies was purchased for the family of Camielle Rose Schumacher.
T
Tribute Store
December 10, 2020
Our condolences to the entire & extended Schumacher family. We love you Grandma/Great Grandma/Camielle.
Simple Sorrows was purchased for the family of Camielle Rose Schumacher.