Sign In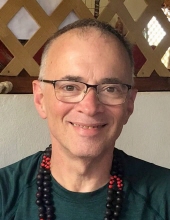 Eric Claude Bartholomew
On Friday morning, November 27, Eric died after a 3-year battle with pancreatic cancer. True to form, he resisted narcotics for pain relief so he could remain intellectually and socially engaged with the world around him until the very end. Eric was born on September 1, 1954 in Nyack, NY and grew up in Montclair, NJ with his parents Dr. Frank Evert Bartholomew (d. 2015) and Colette Rauner Bartholomew (d. 2013), and his younger brother Neil (Cheryl), who survives him and resides in Providence, RI. The primary influences that shaped Eric's life were his mother's survival of the Holocaust, his father's career as a social worker, the Vietnam War and social unrest of Eric's youth, and his own lifetime struggle with dyslexia. Eric could proudly recall being allowed to skip school to ride the bus to Washington, DC to protest the Vietnam War with his mother. "The first time I was teargassed was with my mom" he was fond of saying. His dyslexia caused him to be an academically struggling student and created constant challenges to be battled but did nothing to diminish his love of reading and consuming information. When asked about his voracious reading in spite of his learning disability, his response was "I have to keep reading or I'll forget how." Eric graduated from Montclair (NJ) High School in 1972 and went to St. Louis, MO to attend and eventually graduate from Webster College in 1979 with a B.A. in Music and Elementary Education. In the early 1980s he stumbled into a typesetting job on the night shift at a local business newspaper in St. Louis called the St. Louis Business Journal, and thus a career was born. Eric spent 35 years total with the St. Louis Business Journal and its parent company, American City Business Journals (ACBJ), headquartered in Charlotte, NC. In St. Louis, Eric was quickly promoted from typesetter to Production Manager to Circulation Director, and in 1994 was offered a position at ACBJ headquarters, which brought him to Charlotte. In Charlotte he became the National Circulation Director and built, expanded, and nurtured the Circulation Program at ACBJ until his retirement in 2016. During his tenure with ACBJ he received a total of 4 Eagle Awards for Excellence: in 1992 and 1993 while the Circulation Director at St. Louis, and in 1997 and again in 2006 while in Charlotte. Throughout his career, Eric's greatest satisfaction came from teaching and mentoring other employees to achieve their goals; he worked tirelessly with others to help them be successful. After moving to Charlotte Eric met his wife, Kathy Cantwell, who survives him. They married in 1999 and were fortunate to have a loving, laughing, and mutually supportive marriage. As a couple they enjoyed epic trips to six continents, many with other family members, creating amazing memories and great adventures. Eric's lack of longevity was their only heartbreak. Once retired from the newspaper publishing business, Eric retained his relentless intellectual curiosity. His passions included, but were not restricted to, consuming the written word, Verdi's operas, current events, physical fitness, traveling the world, live jazz, and always asking questions (not necessarily in that order). He became a walking source of reading recommendations to all around him. Once diagnosed with cancer, he focused that same intellectual energy that he had devoted to his work and his reading to making the most of an unfortunate situation. Statistically, he exceeded expectations for pancreatic cancer survival, and this gave him considerable satisfaction, even when he was losing the battle at the end. Eric is also survived by his cousin, Jean Bartholomew (Beth Monahan) of Auburndale, MA, and was a beloved uncle to his nieces and nephews. A virtual, private memorial for family will be held soon. Once social gathering and travel are safe, a Celebration of Life for all who knew him will be held. In lieu of flowers, please consider donating to the Eric Bartholomew Cancer Wellness Scholarship Fund, established in Eric's honor. Eric loved this program and attended all 3 years as a cancer patient. The funds being raised will go towards scholarships for patients who otherwise wouldn't be able to continue on their own. There are two ways to donate: 1. Donate via check in the mail Make your check out to: Novant Health PMC Foundation Mail your check to: Novant Health PMC Foundation, c/o Justin Trakas, PO Box 33549, Charlotte, NC 28233. *Please note on check or in a note accompanying check that donation is intended for "Eric Bartholomew Fund."* 2. Donate online with a credit card Go to Support Novant Health Presbyterian Medical Center Foundation check box "Choose an Area of Support" choose "Community Wellness Initiatives" at bottom of webpage, under "Gift Instructions", please note: · "Eric Bartholomew Fund"
September 1, 1954
-
November 27, 2020
09/01/1954
11/27/2020
Recommend Eric's obituary to your friends.
Obituary
On Friday morning, November 27, Eric died after a 3-year battle with pancreatic cancer. True to form, he resisted narcotics for pain relief so he could remain intellectually and socially engaged with the world around him until the very end. Eric was born on September 1, 1954 in Nyack, NY and grew up in Montclair, NJ with his parents Dr. Frank Evert Bartholomew (d. 2015) and Colette Rauner Bartholomew (d. 2013), and his younger brother Neil (Cheryl), who survives him and resides in Providenc...
Events
There are no events scheduled. You can still show your support by sending flowers directly to the family, or plant a tree in memory of Eric Claude Bartholomew.
Visit the Tribute Store