Sign In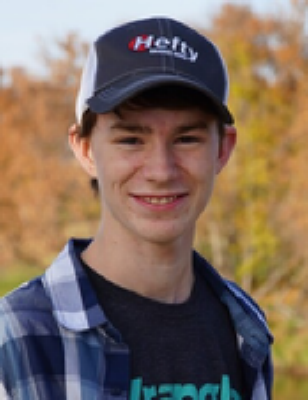 Maverick Dean Bickner
<p style="text-align: justify;"><strong>Maverick Dean Bickner, 19, of Kimball, SD passed away Thursday, November 5, 2020, near Kimball.&nbsp; A private family and friends memorial service is planned for 7:00 p.m. on Friday, November 13, 2020, at Hyke Funeral Home in Redfield.&nbsp; Pastor Harold Loewen will officiate.&nbsp; The service will be live-streamed to the funeral home&rsquo;s website.&nbsp; Masks and social distancing are recommended.&nbsp; Arrangements have been entrusted to Hyke Funeral Home.&nbsp; (www.hykefuneralhome.com)</strong></p> <p style="text-align: justify;"><strong>On August 3, 2001, Maverick Dean Bickner was born in Aberdeen, SD to Rod William Bickner and Erin Fawn (Wipf) Mason. &nbsp;Growing up, he called Doland, Kimball, and Watertown home.&nbsp; He was a proud member of the Doland High School Class of 2020.&nbsp; He was involved in Cub Scouts in Watertown, SD as a child, and in high school participated in FFA, Ag Class, and band.&nbsp;</strong></p> <p style="text-align: justify;"><strong>Mechanically, Maverick had a gift.&nbsp; He worked on small engines, lawnmowers, go-karts, and vehicles.&nbsp; He was best known for his &ldquo;redneck ingenuity.&rdquo;&nbsp; Farming was something Maverick enjoyed, and even though he despised moving bales, he always did it anyways.&nbsp; He would joke about feeding the &ldquo;inmates&rdquo; (cows) and he loved all four-legged critters.&nbsp; He looked forward to checking cows with Becky, tractor pulls, and treasure hunting with family.&nbsp;</strong></p> <p style="text-align: justify;"><strong>Family and friends were very important to Maverick.&nbsp; Mav enjoyed hanging with the littles and his buddies, listening to groovy music, grilling and baked beans, and kayaking. His most memorable times were spent with Dirby, his cousin and best friend, and all his dear friends and family doing the things they were bound to get in trouble for later (but NO regrets!)</strong></p> <p style="text-align: justify;"><strong>&ldquo;Maverick will be missed by all of us!!&nbsp; He loved every single one of us!&rdquo;</strong></p> <p style="text-align: justify;"><strong>He is survived by his dad Rod Bickner (Becky Walker, Braiden and Brynn Mahrt) of Kimball, SD; mom Erin Fawn (David Mason) and Mercedes (Ashten and Jaxon) Crook, Montana Bickner, all of Doland, SD, Madison Mason of Watertown, and Mackenzie Mason of Doland, SD; grandparents:&nbsp; Raymond and Susan Bickner; Gary and Carol Wipf; extra grandparents:&nbsp; Scott and Cindy Walker; and Zane and Brenda Mason; great-grandparents:&nbsp; Lois Bickner, Marie Pazour; and extra great-grandparents:&nbsp; Ila Walker, Phyllis Killen, and Carol Ragatz.&nbsp; He is also survived by his many aunts and uncles:&nbsp; Ira (Jahn) Schumacher; Jan (Scott) Huls; LeAnne (Dan) Bawek; Brandon (Kristin) Wipf and Dexter Wipf; cousins:&nbsp; Kelsey Olson; Blayne and Emily Schumacher; Alex and Ashley Huls; cousin and best friend Dirby Bawek; Jodyn and Bryxx Bawek; and Jake, Tillie, and Ajay Wipf; as well as his Doland High School Class of 2020 &ndash; Dirby, Tait, Taryn, Nate, Natasha, and Jewell.&nbsp;</strong></p> <p style="text-align: justify;"><strong>He was preceded in death by Donald Bickner; Chester Pazour; AJ and Tillie Wipf; Duane, Frances, and Bonnie Ellis; Jenny Bickner; David Wipf;&nbsp;Eugene, Maxine, and Rosalie Mason; and Wayne Ragatz.</strong></p> <p style="text-align: justify;"><strong>&ldquo;Don&rsquo;t let who you used to be get in the way of who you are meant to be.&rdquo;&nbsp; - Author unknown</strong></p> <p style="text-align: justify;"><strong>Maverick wishes to thank all of us for all the love and support!</strong></p> <p style="text-align: justify;"><strong>He&#39;s forever in all our hearts.&nbsp; He&#39;s still here if you STOP!&nbsp; Open your eyes, slow down, listen and just feel.....See what I mean?!&nbsp; That&#39;s Mav!!!</strong></p> <p style="text-align: justify;"><strong>He&#39;s here, he&#39;s everywhere and in everything around us showing us his love for us!&nbsp; Pay attention!&nbsp; He hasn&#39;t gone anywhere!&nbsp; Don&#39;t miss it!&nbsp; It&#39;s important!&nbsp; He&#39;s the simple little things - all around us - the little things are the big things!&nbsp;</strong></p> <p style="text-align: justify;"><strong>Take the time and make the time....for what&#39;s important!&nbsp; &nbsp;Love conquers ALL!</strong></p> <p style="text-align: justify;"><strong>This is not goodbye.....</strong></p> <p style="text-align: justify;"><strong>How about.....see you again!</strong></p> <p style="text-align: justify;"><strong>&nbsp;&nbsp;&nbsp;&nbsp; Love,</strong></p> <p style="text-align: justify;"><strong>&nbsp;&nbsp;&nbsp;&nbsp; Mav</strong></p> <p style="text-align: center;"><strong><em>-----------------------------------------------------------------</em></strong></p> <p style="text-align: center;"><strong><em>Thank you to the participants in Maverick&#39;s service:</em></strong></p> <p style="text-align: center;"><strong><em>Clergy - Pastor Harold Loewen</em></strong></p> <p style="text-align: center;"><strong><em>Honorary Bearers - Doland High School Class of 2020</em></strong></p> <p style="text-align: center;"><strong><em>Music - PLEASE NOTE -- By law, we are required to mute CD songs during the service due to copyright restrictions.&nbsp; </em></strong></p> <p style="text-align: center;"><strong><em>W</em></strong><strong><em>e invite you to look the songs up and listen along.&nbsp;</em></strong></p> <p style="text-align: center;"><strong><em>The music selections are:</em></strong></p> <p style="text-align: center;"><strong><em>&quot;This Is Amazing Grace&quot; by Phil Wickham</em></strong></p> <p style="text-align: center;"><strong><em>&quot;Before You Go&quot; by Lewis Capaldi</em></strong></p> <p style="text-align: center;"><strong><em>&quot;Love Broke Thru&quot; by TobyMac</em></strong></p> <p style="text-align: center;"><b><i>&quot;Deep Water&quot; by American Authors</i></b></p> <p style="text-align: center;"><b><i>--------------------------------------------------------------</i></b></p> <p style="text-align: justify;">&nbsp;</p>
August 3, 2001
-
November 5, 2020
08/03/2001
11/05/2020
Recommend Maverick's obituary to your friends.
Obituary
Maverick Dean Bickner, 19, of Kimball, SD passed away Thursday, November 5, 2020, near Kimball. A private family and friends memorial service is planned for 7:00 p.m. on Friday, November 13, 2020, at Hyke Funeral Home in Redfield. Pastor Harold Loewen will officiate. The service will be live-streamed to the funeral home's website. Masks and social distancing are recommended. Arrangements have been entrusted to Hyke ...
Events
There are no events scheduled. You can still show your support by sending flowers directly to the family, or plant a tree in memory of Maverick Dean Bickner.
Visit the Tribute Store