Sign In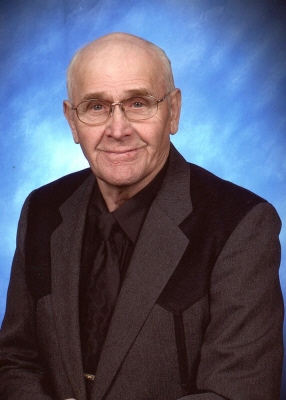 Leonard Gerald DeVries
Corsica - Leonard Gerald DeVries, 87, went to his eternal home on Monday, October 26, 2020 at Good Samaritan Society in Corsica, SD. There will be a private family funeral service on Saturday, October 31, 2020 at 10:00 AM at Harrison Community Church (South Church) with a live feed on the church Facebook page. Committal service will follow the funeral service at Harrison Cemetery. Arrangements by Koehn Bros. Funeral Home in Armour. Leonard Gerald DeVries was born to Gerrit L. and Dora (VanDenHoek) DeVries on April 29, 1933 on the family farm that all the children were born and raised on south of Harrison, SD. He attended Leddy School until the 8th grade and then assisted Gerrit with farming until joining the U.S. Army. He attended basic training in Ft. Sill, OK from April 2, 1953 being sent overseas for the Korean War Conflict and being honorably discharged April 7, 1955. All while there corresponding with his special girl back home. He was united in marriage to Ruby Lou Ligtenberg on October 27, 1955. To this union 6 children were born. The spring of 1956 they settled on the farm milking cows until 1993 and then semi retiring and stayed busy clearing scrap iron until the spring of 2018, as well as many years always looking forward to cutting hay on the farm that is still his. Ruby passed at a young age of 44 on January 17, 1980. Leonard was a baptized and lifelong member of Harrison, SD churches, being both deacon and elder for many years. He was also a member of the Everson Beukelman Post 274. He was proud of his service and of his children and grandchildren that have and are serving. He went to his eternal home October 26, 2020 at Good Samaritan Society in Corsica peacefully with the love of his family near him at the age of 87. He leaves behind his children, Lewis (Pauline) DeVries of Plankinton, SD, Lowell (Elaine) DeVries of Corsica, SD, LeRon (ReVay) DeVries of Corsica, SD, Ruth Airheart of Custer, SD, Ronda (Tim) Hollander of Corsica, SD, and Roxann (LaRon) Gerlach of Stickney, SD, 18 grandchildren, 2 step-grandchildren, 26 great-grandchildren, 6 step-great-grandchildren, 1 great-great-grandchild, 2 sisters, Anna Mae Tamminga of Hudson, MI and Emily Isakson of Puyallup, WA, in-laws, Irvin (Evalou) Ligtenberg, Jim Ligtenberg, Norman DeHaai, and many nieces and nephews. He was preceded in death by his wife, Ruby, parents, granddaughter, Janelle, great-granddaughter, Avalee, son-in-law, James P. Airheart, brother, Erwin (Pat) DeVries, sister, Lorraine (Don) VanSchapen, in-laws, John Tamminga, Alvin Isakson, Robert (Cornelia) Ligtenberg, Jeri Ligtenberg, Eileen (Andy) VanZee, and Phyllis DeHaai.
April 29, 1933
-
October 26, 2020
04/29/1933
10/26/2020
Recommend Leonard's obituary to your friends.
A
All of us at M & L Repair
October 29, 2020
Our thoughts and prayers are with you,
R
Rich, Tara, Kendall, and Dustin Sanders
October 28, 2020
Thinking of you all during this difficult time. We extend our deepest sympathy.
G
Gary & Amy DeVries family
October 28, 2020
We will miss you, Grandpa Leonard. May all family members find peace and comfort in the days ahead along with loving memories in our hearts.
T
The Marshalls & Webers
October 28, 2020
Please accept our most heartfelt sympathies for your loss... Our thoughts are with you and your family during this difficult time.
T
The Tamminga Nieces and Nephews
October 27, 2020
Our deepest sympathy to the family of a Very Special Uncle! Salute to Uncle Len!