Sign In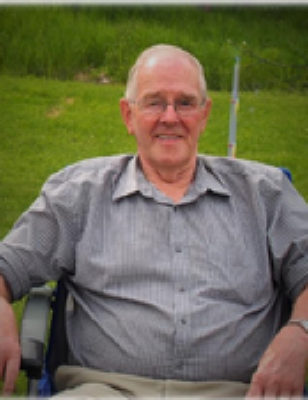 Auke Meints
<p>Psalm 84:3,4: Blessed are those who dwell in your house; they are ever praising you. Blessed are those whose strength is in you, who have set their hearts on pilgrimage.</p> <p>Auke was born on July 7, 1934 in Assen, Drenthe, the Netherlands. He was the third child of Anne and Klaske Meints.</p> <p>He finished his schooling, went to Agricultural school, and then worked with his dad on many of the neighbouring farms.</p> <p>The Meints family immigrated to Canada landing in Houston on May 22, 1954. Before leaving the Netherlands, Auke sang in the Assen Church choir, and there met a young lady who captured his heart, Fennie Post. They wrote 48 weekly letters to each other at which time Fennie also left the Netherlands to join Auke in Houston in 1955. On June 5, 1956 they were married in a double ceremony with John and Fimke (nee Meints) tenBrinke. Six sons (one who died in infancy) and 2 daughters were added to their family. They had a strong loving marriage until Fennie went home to the Lord on June 10, 2017.</p> <p>After the Meints family immigrated to Canada, they purchased a lumber mill from the Bergsma&rsquo;s, and it was named Meints Sawmill. They owned and ran the sawmill from 1955 to 1962. After the sawmill was sold, Auke worked for Buck River Sawmill until 1972 and then Northwood until he retired from Canfor in 1995 at the age of 62. He was always known for his strong work ethic.</p> <p>After his retirement, he and Fennie spent many days in the bush getting firewood, fishing, camping, and traveling to Holland, Manitoba or the Fraser Valley. As Fennie struggled in her health, the driving was kept closer to home. He travelled daily to his son Andy&rsquo;s farm until 2 weeks ago. It was good he had a radio in his truck for those times he got stuck! Auke also loved to track the cows and their calves and always wrote it in one of his &ldquo;cow books&rdquo;. Reading was also a favourite pastime whether Christian magazines or a Louis L&rsquo;Amour. On Thursday mornings Auke would settle in at A &amp; W for a coffee with friends.</p> <p>Auke always loved to garden, planting in the spring, weeding in the summer and harvesting in the fall. He could not wait to dig up every potato plant to see the bounty of the harvest! This was the only fall in which he directed the digging instead of doing it by himself.</p> <p>Auke was respected and loved in the Church community. He showed a strong love for the Church and he had a desire that she continues to be faithful to God&rsquo;s Word. He would be bold with his words to encourage others to follow the way of God. A man of wisdom, child of God, and an example for us all.</p> <p>Auke will be lovingly remembered by:</p> <p>His children: Andy and Jan Meints</p> <p>Jack and Regina Meints</p> <p>Clarence and Sharon Meints</p> <p>Henry and Bonnie Meints</p> <p>Tiemo Meints and Katie Salter</p> <p>Jane Meints</p> <p>Clarinda and Tim Penninga</p> <p>22 grandchildren, 26 great-grandchildren</p>
July 7, 1934
-
October 18, 2020
07/07/1934
10/18/2020
Recommend Auke's obituary to your friends.
Obituary
Psalm 84:3,4: Blessed are those who dwell in your house; they are ever praising you. Blessed are those whose strength is in you, who have set their hearts on pilgrimage.
Auke was born on July 7, 1934 in Assen, Drenthe, the Netherlands. He was the third child of Anne and Klaske Meints.
He finished his schooling, went to Agricultural school, and then worked with his dad on many of the neighbouring farms.
The Meints family immigrated to Canada landing in Houston on M...
Events
There are no events scheduled.