Sign In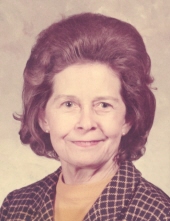 Viola Mae Gaddis Cecil
Viola Mae Gaddis Cecil, 103, passed away October 21, 2020 at Hillcrest Nursing Home in Owensboro, KY. She was born May 22, 1917 in Hunter, Arkansas. Her parents, Ida Bell Vanover Gaddis and John Henry Gaddis were from the Panther area in Daviess County and went to Arkansas to homestead. She retired from GE in 1981 after 34 1/2 years. During WWII, Viola worked in Evansville, Indiana as a "Rosie the Riveter" making airplanes for the war. She was a Lady Kentucky Colonel and was a member of Third Baptist Church. Viola was always happy when she had a lot of people around her. She was always generous, and known for her love of family, especially the young people and children. She enjoyed having out of town relatives staying in her home. She was a very good cook and could put a meal on the table in minutes and could always set an extra plate. She worked at GE and came home and helped her husband in the garden picking vegetables for the next day. Through hard work and thriftiness, Viola and her husband built a home and thriving plant and vegetable business, "R.E. Cecil's Greenhouse and Produce" located on the Veach Road. She was a loving and devoted wife and mother and a special "Grandma". She was preceded in death by her husband of 57 years, Robert E. Cecil; her parents; brothers, Louis Calvin "L.C." Gaddis and Melvin Gaddis; and a great-great-granddaughter, Evalyn Grace Russ. Those who mourn her passing are her daughter, Barbara Ann Cecil Russ (Wayne); son, Robert E. "Bob" Cecil, Jr. (Ruth King); four grandchildren, Angela Russ, Philip Cecil, Eric Cecil, and Shawn Russ; one step-grandson, Kristopher Dillon (Jessica), all of Owensboro; six great-granddaughters, Sydney Morgan Ellis, Brooke Alexandria Ellis, Madison Lee Ellis, Morgan Cecil, Alexis Cheyenne Russ, and Emily Cecil; four great-grandsons, Spencer Russ (Morgan), Brayden Russ, Brody Cecil, and Chase Cecil; two step-great-granddaughters, Kerstyn and Kaylee Dillon; and last but not least, her great-great-grandson, little Jackson Russ Ellis and a great-great-grandson she never met, baby Timothy Orry Russ, all of Owensboro. She also leaves behind a nephew, William Gaddis (Anne) of Frankfort and a niece, Reubene Ann Gaddis Adkins (Troy) of Owensboro. Funeral services will be at 10 a.m. on Saturday in the chapel at James H. Davis Funeral Home & Crematory. Burial will follow in Rosehill Cemetery. Visitation is from 4 to 7 p.m. on Friday and after 9 a.m. on Saturday at the funeral home. The number of those attending the visitation or funeral shall be within current health and safety directives. Family and friends shall wear appropriate personal protective masks.
May 22, 1917
-
October 21, 2020
05/22/1917
10/21/2020
Recommend Viola's obituary to your friends.
Plant a tree in memory of Viola
An environmentally friendly option
B
Brian Fischer
October 24, 2020
My deepest condolences to the Cecil family - I apologize for not being able to make it to the funeral home but know we'll be thinking of you and keep you in our prayers! Brian, Amanda and Meredith Fischer
C
Carolyn Cecil Hunter
October 23, 2020
Some of my fondest memories of childhood were of those while growing up on Veach Road near family. Keeping Barbara Ann, Angie and family in my prayers.
T
Tammy Vernon
October 23, 2020
Dear Cecil Family, The picture seemed familiar, then I read the obituary ... Viola and her husband built a home and thriving plant and vegetable business, R.E. Cecil's Greenhouse and Produce, located on the Veach Road ... I knew I recognized Mrs. Cecil. My family bough...
Continue Reading
M
Michelle M Vance
October 22, 2020
We are so very sorry for your loss Shawn and Spencer! Our prayers and love are with you all! Michelle and Taylor Vance
D
Dawn Sallee
October 22, 2020
Heart felt prayers for all ❤️