Sign In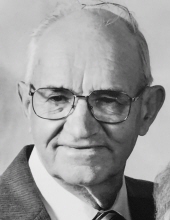 Maurice Shammel
It is with heavy hearts that we announce the death of the head of our herd... Maurice Shammel, age 95, passed away in his Billings home, the evening of October 16, 2020 surrounded by family members. Maurice was born July 23, 1925 in Lewistown, to Lee and Elsie (Jenni) Shammel, the first of five children. He grew up in the Beaver Creek area near Lewistown, and ranched in the Hilger area for many years, before spending his retirement years in Billings. He was preceded in death by his wife, Betty; parents; sister, Marian; and brothers-in-law, Dick Porter, Tom Moran, and Bill Bakker. He is survived by his sisters, Helen Bakker and Jeanette Moran, both of Billings, and brother and sister-in-law Bob and Wilma Shammel of Lewistown. Also surviving are his five children: Linda (Jack) Hagen of Longview, Washington; Karen (Bob) Flint of Butte; Alan (Stephanie) Shammel of Hilger; Karl (Joyce) Shammel of Billings; and Laurie Shammel (Doug Edgerton) of Bozeman/West Yellowstone. Also surviving are his 10 grandchildren and 10 great-grandchildren: Erin (Jon) Baker; Heidi (Chris) Fritz [Lance and Martin]; Lyle (Mariah) Shammel [Colter, Eliza, Benjamin, and Cora]; Kayla (Dayne) Kocher [Kayson]; Kelsey Shammel (Jacob Pearson); Lindsey Flint (Andrew Weed) [Emerson]; Justin (Kathryn) Flint; Joel (Kate) Hagen [Izabelle and Madeline]; Jeff Hagen (Tessa Wollum); and Seth Hagen (Cassie Dartt). He graduated from Fergus County High School in Lewistown in 1943. He was an excellent student, whose dream of becoming a Mechanical Engineer was diverted to farm production during the war. After high school, he ranched with his dad on the home place as well as another of his dad's holdings in the Hilger area. In early 1947, he met the love of his life and on October 25, 1947, he and Betty Mae Gauer were married in Lewistown. Soon after marriage they moved to the Hilger ranch, which he later purchased from his dad. Their first child, Linda, was born in 1949, followed by Karen (1951), Alan (1952), Karl (1957), and Laurie (1961). His parents were hard workers and instilled in him an incredibly strong work ethic. He strived to do things right and was willing to put in long hard hours to achieve his goals. Raising his family, providing for them, and teaching them to make their own way in the world was his top priority. Education was extremely important to him; he made sure all his children had the opportunity to be educated beyond high school. While ranching, he was an excellent steward of the land. He controlled weeds, enhanced springs for water, and willingly challenged mining entities that were causing destruction. He was conscientious, forward-thinking, innovative, and progressive in his farm/ranching practices. He was one of the first in the area to develop new cattle breeding practices, resulting in a Herford-Angus cross that was well suited for the area. He was a perfectionist; one of his favorite quotes was "Good fences make good neighbors." Maurice and Betty greatly enjoyed the physical, mental, and social aspects of square and round dancing, often travelling around the state to participate in festivals. They had an enduring love and respect for one another and were truly partners in all aspects of their life. After Betty's death in 2009, much of the spark went out of his life. Although he missed Betty terribly, he found joy in his later years in being around his grandchildren and great-grandchildren. He was a member of Masons, Fraternal Order of Eagles, and played in the Eagles band in the early years, and, later, a member of square and round dance groups and a round dance caller. He also enjoyed puzzles, mastering the highest level Sudoku puzzles in his later years to remain mentally sharp. Commented on by many was his sense of humor… When he got that mischievous twinkle in his eye, you knew you needed to be on your toes! He had a lifelong love of chocolate... He always said "the only thing better than chocolate is more chocolate." A public viewing time will be held at Creel Funeral Home on Friday, October 30th, from 3:00 to 7:00 p.m. (distancing and masks expected). A graveside service is planned for immediate family only. Donations may be sent to the Shodair Children's Hospital or donor's entity of choice. Arrangements are under the care of Creel Funeral Home. Maurice's family and friends can share memories and condolences at <a href="http://www.creelfuneralhome.com">www.creelfuneralhome.com </a>
July 23, 1925
-
October 16, 2020
07/23/1925
10/16/2020
Recommend Maurice's obituary to your friends.
B
Brenda Jimmerson Stahl
November 7, 2020
Shammel family, so sorry for your loss but having happy memories of your dad and mom. i always remember your dads happy smile. Mom also wanted to be remembered to you. Hugs to all of you. Brenda Jimmerson Stahl
K
Kathie Bailey
November 4, 2020
Dear Shammel Family, I've known Maurice all of my life. He was the neighbor around the mountain. He was a great person and believed firmly in 4-H and the values it taught. There was always a smile and twinkle in his eyes. I'm sorry that the times do not allow me to r...
Continue Reading
D
Darren Johnson
October 29, 2020
Please accept my most heartfelt sympathies for your loss... My thoughts are with you and your family during this difficult time.
j
jennifer isern
October 27, 2020
Dear Shammel Family, Maurice was such a kind, gentle, and respectful man. He was also so easy to talk with during our Jenni reunions and at family events in Billings and Lewistown. The obituary said it well-- he definitely had a twinkle in his eye and was full ...
Continue Reading
J
Jill Morris
October 22, 2020
Our thoughts and prayers are with you all. David and Jill Morris and family
G
Gary Jimmerson
October 25, 2020