Sign In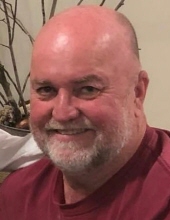 Joe Paul Whitsett
Joe Paul Whitsett, 62, of Rogersville, passed away Saturday, October 17, 2020 at Helen Keller Hospital. Joe Paul Whitsett, 62, of Rogersville went to be with the Lord on Saturday, October 17, 2020 after a brief illness. There will be a graveside service Tuesday, October 20, 2020 at 2:00pm at Miller Cemetery with Kyle Davis officiating. Pallbearers will be Kyle Davis, Josh Pope, Kevin Belue, Kyle Belue, Seth Brooks and Cade Brooks. He is preceded in death by his father, Lynn Whitsett and his brother, Jimmy Whitsett. He is survived by his wife of 42 years, Ruth Greer Whitsett, his daughters Miranda (Kyle) Davis and Melanie (Josh) Pope, Grandchildren Katelyn Pope, Zac Pope, Evelyn Davis, and Stella Davis. He is also survived by his mother, Marjorie Whitsett, his siblings Steve Whitsett, Angie (Doug) Harville, and Becky (John) Gibson, along with numerous nieces and nephews. Joe was a member of New Mt Bethel United Methodist Church. He was also a member of Masonic Lodge #147. He worked for his father at the Lynn Whitsett Corporation for a number of years before moving to Alabama where he owned and operated J&L Market and Deli for 20 years. Joe was a loving husband and dad but his best role was that of Papa. He will be greatly missed. In lieu of flowers, the family asks that you make a donation to the charity of your choice. Visit rogersvillefh.com to share memories and condolences to the Whitsett family. Rogersville Funeral Home is directing.
November 20, 1957
-
October 17, 2020
11/20/1957
10/17/2020
Recommend Joe's obituary to your friends.
Plant a tree in memory of Joe
An environmentally friendly option
J
Jackie Herston
October 20, 2020
So very sorry for your loss! You're family will continue to be in my prayers 🙏
K
Kenneth J Hammond
October 20, 2020
So sorry to learn via Times Daily of the passing of Joe. Ken and I send our deepest sympathy to all of your family. God bless you all in this time of sadness. Kenneth and Elvy Hammond
J
Joy James
October 18, 2020
I'm so sorry to hear this sad news! I always enjoyed my talks with Joe, he was such a kind man. My prayers are with each of you.
A
Aaron & Holly Glass
October 18, 2020
So sorry for your loss. Always thought a lot of Joe and his family. He will be missed by many.
S
Susan Armstrong Goodbar
October 18, 2020
My prayers remain with the family and friends of Joe. Knew Joe for a long time, especially in younger days.
N
Nancy Tucker
October 18, 2020
I have known joe for many yrs in Memphis, I used to be part of Whitsett family, when my husband traveled joe was always there if I needed help with kids or whatever. My prayers go out to Ruth & family
T
Turner a. Hannah
October 18, 2020
I am saddened to hear of Joe's passing. always enjoyed talking to him when I seen him. My prayer goes out to Ruth and the family. May God bless each of you during this difficult time. In Christian Love, Turner A. Hannah "An...
Continue Reading
M
Mary Beth Blankenship
October 17, 2020
Prayers for this family. I did not know Joe but Ruth was a wonderful friend to my sister Kim. So sorry to hear of your loss.
Wanda Shedd
October 17, 2020
I have known Joe for a long time, back when he was a kid in Memphis. My Mom and his grandmother, Sal Ezell, was best friends. I am very fond of the entire Whitsett family. Prayers to Ruth and his entire family