Sign In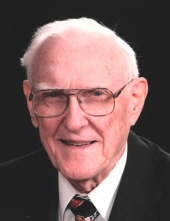 Paul Edward Morrow
Paul Edward Morrow, age 92, passed away on October 17, 2020 after a brief illness. Paul was born on October 23, 1927 in Celina, OH, the only son of Clarence and Edith Morrow. On June 4, 1960 he married Susan Boxwell of Middletown, OH. The couple celebrated their 60th wedding anniversary this past June. Paul graduated from Miami University in Oxford, OH with undergraduate and graduate degrees. He taught school for three years in Mendon, OH, and eleven years at Lemon-Monroe High School in Monroe, OH. During his years at Monroe as head of the instrumental music program, his marching band was highly regarded in the community, and in 1957 won several trophies at the national Cherry Blossom Festival in Washington, DC. His concert bands also won many first places over the years in regional and state contests. In 1964, Paul changed careers and went into business for himself, founding the Morrow Piano & Organ Company in Greensboro, NC. He retired in 1988 and twelve years later, he and Susan returned to Ohio, settling at Otterbein Retirement Community in Lebanon. During his twenty years at Otterbein, Paul was very active in the music program. He was a member of two hand bell choirs and played bass in a recorder ensemble. He and Susan both greatly enjoyed travel, both throughout the United States and abroad. He was a member of the Otterbein Community Methodist Church. Paul had a life-long interest in airplanes and flying. As a young man, he earned a pilot's license in the Aeronca Champ light plane. In retirement, he renewed his hobby of building and flying radio-controlled sailplanes, winning a trophy at the U.S. National Souring Championships in Washington State at age 63. Paul is survived by his spouse Susan Morrow, son David Morrow (Lynne) of Denver, CO, daughter Mary Brower (Chris) of Cuyahoga Falls, OH, granddaughter Beth Strickenburg (Andrew) of Denver, CO and great-grandson David Strickenburg of Denver, CO. The family will have a private graveside service at North Grove Cemetery in Celina, OH. The family requests that any memorial be made to Otterbein Lebanon Community Methodist Church or Otterbein Lebanon Benevolent Fund.
October 23, 1927
-
October 17, 2020
10/23/1927
10/17/2020
Recommend Paul's obituary to your friends.
Donna L Bach Fisher
November 2, 2020
Eddie and I have many memories of Paul and Susan. We all were at the Cherry Blossom , marching our little hearts out! We were in the Concert Band. To get to our music room, you had to go down thru a tunnel. Many echoes were heard and remember from there. Paul and Su...
Continue Reading
A candle was posted for Paul Edward Morrow.
B
Bob Young
October 19, 2020
Mr Morrow was my Teacher Mentor and Friend. I was still in grade school when he came to Monroe, however I played in the Lemon Monroe High School Band from 4th Grade on. I am heartbroken, although I can proudly say I dont know anyone who ever met Mr Morrow who didn't thin...
Continue Reading
L
Lynne Morrow
October 18, 2020
Paul was the most kind and encouraging father-in-law a person could have. He was generous and thoughtful, always eager to talk a bit about the science he was reading.
N
Nance Daiker
October 18, 2020
Susan, My deepest sympathy to you and your family. Lemon-Monroe's marching and concert bands were the pride of our school due to Paul's leadership. Nance Reuthe Daiker
J
Judy Bowling
October 17, 2020
Such great memories of band and a great teacher. Mr Morrow was a talented musician who will be missed by all who knew him. My sympathy to Susan and family. Judy (Fletcher) Bowling
B
Barbara Lathey Hackett
October 17, 2020
My deepest sympathy to Mr. Morrows family. He will definitely be remembered by all who were lucky to be in his Marching band at Monroe HS. He was my favorite teacher and I am grateful for the four years I spend in Band. It was a very special memorable time in my life. Go...
Continue Reading
E
Elaine Garver
October 17, 2020
Best teacher anyone could ever hope for. He was respected and admired by his students. He truly conducted and constructed the "best band in the land!" Elaine Wells Garver
J
Judith Pierce
October 17, 2020
Susan. So sorry to hear about Mr. Morrow's passing. You are in my prayers.