Sign In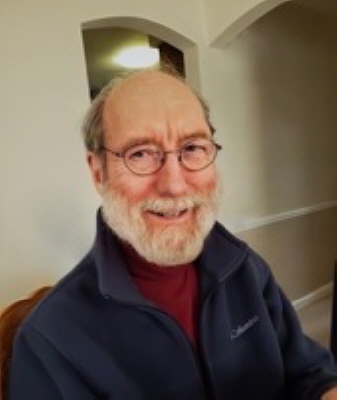 Vincent Kavaloski
On cool fall afternoons, Vince could often be found in his hammock under the old walnut tree, proudly crunching on the last of his garden beans, humming a Strauss horn concerto, or finishing an essay on the works of Tolstoy or Socrates. On his favorite days, his hammock turned into the doomed Pequod as he wildly swung shrieking grandkids to his tales of Captain Ahab and the White Whale. Literature, his garden, music, peace advocacy and most of all his family were a part of his life-long quest to live a "good life." Vincent Carl Kavaloski was born on January 15, 1946, in South Saint Paul to Elvene and Carl Kavaloski. A child of endless intellectual curiosity, Vincent was a voracious reader and thinker who began to write a book in elementary school entitled, All the Knowledge of the World. His love of reading continued into high school, despite his grandfather's anger when he caught him reading instead of haying on the farm. His grandmother would warn of grandfather's arrival, and Vince would quickly hide the Russian novels that had become his passion. Vincent also loved classical music and, following in his brother's footsteps, played the French horn. Vincent graduated from St. Thomas College in St. Paul, where he became known for his persistent intellectual rebuttals. Indeed, when the head of philosophy at St. Thomas wrote an unsolicited letter to the University of Chicago graduate school warning them not to admit this young man who asked too many questions and regularly challenged authority, the University of Chicago not only accepted Vince, but they were so impressed with the contrariness described in the letter that they awarded him a full scholarship. Vince's dissertation focused on Darwin and The History and Philosophy of Science, yet his intellectual interests knew no boundaries. His teaching career took him first to Penn State University, then to Shimer College, and later to UW Richland Center, UW Platteville, and to the Wisconsin Humanities Council. He spent the last 25 years of his teaching career at Edgewood College in Madison. His award-winning courses included such topics as the History and Philosophy of Nonviolence, Living the Good Life, the United Nations, and the Philosophy of Mahatma Gandhi and Dr. Martin Luther King. He was deeply committed to his students and supported their interests in human rights and justice through the Amnesty International Club and the UN Club. For more than 20 years, Vince took hundreds of high school and college students to the U.N. in New York City to experience what he called "the most multi-cultural place on earth." Vincent's deep commitment to peace making took him on many adventures including a peace delegation to the Soviet Union during the Cold War. There he smuggled out a record of the unjust trial of the imprisoned president of International Physicians for the Prevention of Nuclear War, ultimately resulting in his freedom and relocation to Israel. For several summers in the 1980s, Vince and his family taught for UNESCO in Poland where they witnessed the nonviolent resistance of the Poles living under Martial Law and the secretly thriving Solidarity Movement. Later, with his wife, Jane, he also taught and studied nonviolence in Denmark and the former Czechoslovakia. In the early 1990s, they led an interfaith delegation to the Middle East to meet with groups committed to nonviolence reconciliation. Also concerned about the environmental crisis, Vincent and Jane led study tours to Central America to study the interdependence of the coral reefs and rainforests, and their importance in planetary survival. In 2013 the Dane County Chapter of the United Nations honored Vincent with their Global Citizen Award. Vincent also was involved in many peace activities in rural Southwest Wisconsin. 35 years ago Jane and Vincent organized "Grassroots Citizens for Peace" and that became a platform for organizing peace-oriented workshops, study series, book groups and vigils. Annually Vincent was a speaker at the "Lanterns for Peace" event held in commemoration of the bombings of the Japanese cities, Hiroshima and Nagasaki. Always a lover of dialogue, Vincent initiated a Socratic Café and co-facilitated "Understanding One Another," a politically diverse group who convened for respectful listening. Vincent spent much of this time tending and expanding their organic garden, always proud of its bounty and eager to show it off to visitors. He and Jane lived in an intentional community outside of Dodgeville, Wisconsin, where he left a part of his heart when they moved to Madison. The "good life" Vince reflected in response to Plato's and Socrates' writings, "is a decent life respectful of justice, honesty, and friendship." "Death" he mused, "is like departing a wonderful feast. One departs filled with gratitude and joy for the gifts of beauty, love, and life. The feast of love comes to an end, friends depart, and music fades away. We take our leave at last with overflowing hearts and stride out alone into the night." Vincent was a loving husband to his wife Jane Hammatt Kavaloski, dedicated father to their children: son Joshua Kavaloski (Marilyn Schirmer) and their children Leopold, Teodor & Wilhelm; daughter Amanda Hammatt (Carlos Arenas) and their children Julian & Gabriel; daughter Alainya Kavaloski and her children Elisheva and Lianna; son Matthew Hammatt (Nina Nancarrow) and their children Colin & Genevieve; and God daughter Sabrina Brown (Kenneth Buchanan) and their children: Quinshard, Markeith and Quintesha; and God son Jake Swamp. Vincent is also survived by his siblings Charles Kavalovski (Margo Garrett), Charlotte Schuerman (John), Veronica Kavaloski, and Greg Kavaloski. Vincent will be missed by those whose lives he touched, and he will be remembered through his poems, parables, and ponderings. He passed away in the arms of his loving wife on Thursday, September 10, 2020. There are some few precious things that death cannot destroy, Lies cannot corrupt, violence cannot defeat, suffering cannot overwhelm, and money cannot buy. There are, and always have been, some few precious things. Love, Peace, Kindness, Justice, Understanding And they save our souls in the infinite waters of Divine love. (V. K.) (continued) Memorial donations may be made in Vincent's honor to the Vincent Kavaloski Humanities Scholarship at Edgewood College, Advancement Office, 1000 Edgewood Drive, Madison, Wi, 53711. On-line donations may be made at https://www.edgewood.edu/vince A virtual Memorial Celebration of Vincent's Life will be hosted by the Madison Quaker Community on Saturday, October 17, 2020, at 10:00 a.m. Memorial for Vince Kavaloski: Join Zoom Meeting https://us02web.zoom.us/j/86544510538?pwd=M0tPVVMwUGlYbXdud1dzVUhINjZGdz09 or Dial in by phone: +1-312-626-6799 +1-646-876-9923 (alternate phone number) Meeting ID: 865 4451 0538 Passcode: 856601 Use *6 to mute and unmute yourself)
January 15, 1946
-
September 10, 2020
01/15/1946
09/10/2020
Recommend Vincent's obituary to your friends.
Obituary
On cool fall afternoons, Vince could often be found in his hammock under the old walnut tree, proudly crunching on the last of his garden beans, humming a Strauss horn concerto, or finishing an essay on the works of Tolstoy or Socrates. On his favorite days, his hammock turned into the doomed Pequod as he wildly swung shrieking grandkids to his tales of Captain Ahab and the White Whale. Literature, his garden, music, peace advocacy and most of all his family were a part of his life-long que...
Events
There are no events scheduled. You can still show your support by sending flowers directly to the family, or plant a tree in memory of Vincent Kavaloski.
Visit the Tribute Store