Sign In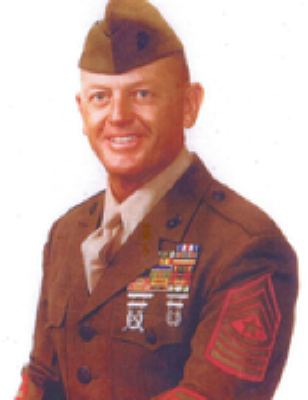 Walter Wesley Melton
<p>Sergeant Major (USMC Retired) Walter &ldquo;Wes&rdquo; Melton, Jr., age 83 of Long Beach, passed away Wednesday, September 16, 2020.</p> <p>He was preceded in death by his parents, Walter and Dorothy Melton; his daughter, Susan Breazeale; and his first wife, Doris Coward Melton.</p> <p>He is survived by his wife, Sharon Melton; his sons, Mark Melton and Gary Melton (Helen); his stepdaughter, Deidra Jacobs; his stepson, Kyle Jacobs (Jessica); his granddaughter, Amelia Melton; his step-grandsons, Gabe Jacobs, Sam Jacobs, and Micah Jacobs; his half-sister, Chris Dobbs; and his brothers, David Melton and Charles Melton.</p> <p>It&#39;s obvious when you looked at Sergeant Major Melton, it was apparent that he had left an imprint on the Marine Corps. His appearance would be immaculate from the spit shine shoes to the razor sharp creases in his trousers. A young Marine would see an example that he could strive to emulate. He told a story without saying a word. The multi-colored ribbons he wore let the world know that he not only spent a considerable time in the Marine Corps but had contributed above and beyond in both combat and peacetime. His face was a story in itself. As he talked about his career you would see a multitude of emotions cross his usually stoic face. When Melton talked about his combat you saw pain; when he talked about his younger days in the Corps you saw a mischievous grin; and when he talked about the Corps in general you saw pure joy.</p> <p>For Melton, the story began in October 1953 when he entered the Marine Corps and made the trip from his home in Gulfport, MS to Parris Island to complete his basic training. According to Melton, it was a different Corps then. &#39;The first thing you have to realize is that it was a different attitude then. The Ribbon Creek incident hadn&rsquo;t taken place yet and basic training was run by the NCOs and SNCOs then. &nbsp;It was a lot more physical then and there was just a minimum of officer supervision. &quot;I&#39;m not saying that it was a better way to do things or train recruits. It was just the way it was done then.&quot; Melton was awarded the military occupational skill of an infantry rifleman (0311) and sent to Camp Lejeune, NC, after completing his training. After two years at Lejeune he was ordered to Marine Barracks, New Orleans, where he stayed until 1957 when he was assigned to the Marine Corps Education and Development Command, Quantico, VA, serving as an instructor at the Basic School for a year.</p> <p>1958 found Melton once again at Parris Island, this time as a military policeman for three years. It was a forecast of things&nbsp; to come because &nbsp;the stoic Marine &nbsp;would find himself assigned &nbsp;to the Recruit Depot &nbsp;many more times &nbsp;in his colored &nbsp;career.</p> <p>He pulled his first tour in Okinawa in 1961 and then returned for his second tour as an instructor at the Basic School at Quantico. Ordered to the west coast for the first and only time Melton was assigned to the 2nd Battalion, lst Marines before transferring to Okinawa in January 1965. In May of 1965 Melton saw combat for the first time. He served his country and Corps as a platoon sergeant with the 3rd Marines in the Republic of Vietnam. Crediting the SNCOs of his younger days in the Corps for his accomplishments under fire, Melton said, &quot;I was prepared for combat. From the first days at Parris Island the NCOs and SNCOs taught us younger Marines what to do under certain conditions. They showed us that it was important to follow orders and to think on our feet. Of course, they sometimes had unique ways of getting our attention in those days,&quot; he reminisced with a wry smile. No matter how he was taught, the lessons obviously took and were passed on to the next generation of Marines when Melton pulled his first tour of drill instructor duty at Parris Island from 1966 to 1968.</p> <p>Volunteering for his second tour of combat in 1968, then Gunnery Sergeant Melton was assigned again to the 3rd Marines in the Republic of Vietnam. He returned to the States in 1969. With a recently awarded Silver Star topping the growing number of ribbons on his chest he returned once again to Parris Island, serving as the Non-Commissioned Officer-in-Charge of Depot Classification.</p> <p>Everyone likes to go home and Melton returned to his home in Gulfport for a couple of years. It wasn&#39;t two years of vacation, though; it was two years of recruiting young men to further their education at Parris Island with a ten week course of basic instruction on how to become a Marine. Selected for First Sergeant while on recruiting duty, Melton attended First Sergeants School before serving as First Sergeant, Headquarters and Service Company, 3rd Tank Battalion, Okinawa.</p> <p>He returned for his last assignment at Parris Island in 1972. He was assigned as the first male Sergeant Major of a Woman Recruit Training Battalion and spent many hours conversing with the Commanding General, Major General Robert Barrow, who was destined to become the Corps 27th Commandant and in Melton&#39;s estimation, it&rsquo;s finest.</p> <p>In 1975, Melton was assigned to the 1st Radio Battalion which was then stationed at Marine Corps Air Station, Kaneohe Bay, HI. Earning the title &#39;Sergeant Major of Marines a year later, he was reassigned to the 3rd Marines, still in Hawaii.</p> <p>His last overseas tour was again in Okinawa, this time as the Sergeant Major, 3rd Field Service Support Group, 9th Engineer Battalion, Okinawa, Japan. Upon completion of this tour he spent a year in Florida with Marine Aircraft Group-41, Det &ldquo;A&quot;, Marine Fighter Attack Squadron-122, Marine Aircraft Group-31.&nbsp; Beaufort was Melton&#39;s next assignment and in 1983 he moved from the Group to Station to become the Station &nbsp;Sergeant Major.</p> <p>Melton left the active Marine Corps with the satisfaction of realizing his major goal in life - to be a Sergeant Major of Marines. More importantly, he left knowing that he had a part in shaping the Corps of tomorrow. As he wryly put it &quot;You &nbsp;know &nbsp;it&rsquo;s time &nbsp;to go when &nbsp;some &nbsp;of the young &nbsp;Marines &nbsp;you trained at Parris &nbsp;Island are now &nbsp;Sergeants Major of Marines&quot;. But as all Sergeants Major are apt to do, he left with a bit of advice and praise for the young Marines of today. &nbsp;Referring to the Corps as a pyramid, he said, &quot;The young Marines of today are the foundation of that pyramid. With the senior Marines at the top depending on that strong foundation to hold the pyramid together&quot;, he went on to caution, &ldquo;the NCOs and SNCOs ensure that the young Marines have the basic knowledge and spirit to hold that foundation together&rdquo;. Those Sergeants Major of today who were in boot camp when Melton was a drill instructor have someone to thank also. According to Melton it was Gunnery Sergeant Lee R. James who set the example for him when he was a young Marine making that choice on whether to become a civilian or remain a Marine. &quot;Gunny James was in my opinion the ideal Staff Non-Commissioned Officer,&quot; said Melton, &ldquo;he walked, talked and breathed Marine Corps. &nbsp;But most importantly he led by example and that&#39;s one thing an NCO and SNCO must do,&rdquo; Melton emphasized.</p> <p>Sergeant Major Melton&#39;s decorations include the Silver Star, the Navy &nbsp;Commendation Medal &nbsp;with combat &quot;V&quot;, &nbsp;and a gold star in lieu of a second award, &nbsp;the Navy &nbsp;Achievement Medal &nbsp;with &nbsp;a gold &nbsp;star in lieu of a second award, the Combat &nbsp;Action Ribbon, the Presidential Unit Citation, the &nbsp;Vietnam Campaign Medal &nbsp;with 4 bronze stars, the Vietnam Service Medal, the &nbsp;Vietnam Civic &nbsp;Action Medal, the Vietnamese Cross of Gallantry &nbsp;with silver star, &nbsp;the Sea Service Deployment Ribbon, the National Defense Medal, and 8 awards of the Good &nbsp;Conduct Medal.</p> <p>Services with military honors will be scheduled at a later date. The family requests donations be addressed and sent to Wreaths Across America, c/o DAV Chapter 12 Beaufort, PO Box 392, Port Royal, SC 29935</p> <p>Riemann Family Funeral Homes, 19130 Commission Road, Long Beach is serving this family.</p>
March 24, 1937
-
September 16, 2020
03/24/1937
09/16/2020
Recommend Walter's obituary to your friends.
Obituary
Sergeant Major (USMC Retired) Walter "Wes" Melton, Jr., age 83 of Long Beach, passed away Wednesday, September 16, 2020.
He was preceded in death by his parents, Walter and Dorothy Melton; his daughter, Susan Breazeale; and his first wife, Doris Coward Melton.
He is survived by his wife, Sharon Melton; his sons, Mark Melton and Gary Melton (Helen); his stepdaughter, Deidra Jacobs; his stepson, Kyle Jacobs (Jessica); his granddaughter, Amelia Melton; his step-g...
Events
Friday, September 25 2020
11:00 AM
- 01:00 PM
Biloxi National Cemetery
400 Veterans Blvd
Biloxi,
MS
39531