Sign In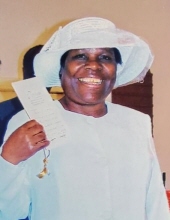 Norma J. Williams
Norma Jean Williams, departed this life on Tuesday, September 8, 2020. She was born November 16, 1954 in Prince Edward County to Thelma Louise Williams and Burnette Williams. Norma attended school in Nottoway County. She retired from VCBR in Burkeville, Virginia where she enjoyed cooking. Norma married Edward Williams in 1989, he preceded her in death on April 18, 2012. Norma leaves to cherish her memories, Rachel Ingram, Cynthia Williams, Alvin Epps, Jr., Jeanette Wilson and Susanna Gayles; seventeen grandchildren; eighteen great grandchildren; twelve siblings, Josephine Hill, James Montgomery, Lionel Montgomery, Wesley Montgomery, Burnette Montgomery, Milton Williams, Laverne Montgomery, Deborah Montgomery, Cora Daniels, Betty Coleman, Linda Montgomery and Joseph Montgomery; other relatives and friends. Graveside Services Tuesday, September 15, 2020 at 11:00 a.m. at Greemvew Cemetery, Blackstone. W.E. Hawkes &Son Funeral Home of Blackstone in charge of arrangements.
November 16, 1954
-
September 8, 2020
11/16/1954
09/08/2020
Recommend Norma's obituary to your friends.
R
Ronnie Atkins
September 15, 2020
A true friend for over 60 years. And her family. She loved fishing. A wonderful lady.
V
Vanessa Williams Carroll
September 14, 2020
Thoughts and prayers are with you all.
Love,
Cousin Vanessa Williams Carroll
(Shag)
Candle of Love was posted for Norma J. Williams.