Sign In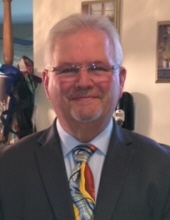 Wayne L. Stuart
Wayne L. Stuart Age 71 passed away suddenly Tuesday August 25, 2020 at his home in Orland Park where he resided for the past 30 years, formerly of Calumet City. Wayne is a retired Firefighter, formerly he was employed in Calumet City then to retire as a Lieutenant from the Skokie Fire Department after more than 40 years of service. After retirement, Wayne spent much of his time as a loyal and trusted employee at the Kurtz, Anderson, and Goodale Funeral Homes where he drove on many funerals and greeted many families at the door. He was also a member of the Senior Citizen Advisory Committee of Orland Park. He is survived by his loving wife Sandra Stuart; sister Barbara Stuart; nephews John (Dr. Mary) Fitzgibbon and Scott (Lindsay) Fitzgibbon; great nieces and nephews Kadyen, Sean, Olivia, and Brad also a sister-in-law Barbara (Patrick) Fitzgibbon. Preceded in death by his parents Wayne and Helen Stuart and an infant daughter Stacey Stuart. Due to the current heath pandemic, services for Wayne will be private.
January 27, 1949
-
August 25, 2020
01/27/1949
08/25/2020
Recommend Wayne's obituary to your friends.
Plant a tree in memory of Wayne
An environmentally friendly option
P
Pat Babula
September 9, 2020
Dear Sandy My heart is broken! Wayne was a wonderful friend.. a wonderful person.. Rest in paradise Wayne Always in my ❤️ Pat Babula
I had the pleasure of knowing Wayne thru work at Orland Fire. He was a positive force and a historian of the fire service who was not afraid to teach us about the history of the business and share his experiences in busy companies. He will be missed.
S
Sheila Dragovich
August 29, 2020
My thoughts and Prayers are with the family, at their loss. Wayne was a team player, always ready to help when he was asked. RIP Wayne. You will be missed.
G
Greg Ferro
August 29, 2020
Lots of laughs when we worked in Evergreen. Always good memories.
M
Mark Sikorski
August 28, 2020
Rest in Peace my friend. From our days in Orland Central, to you being a comforting word at our family funerals, you will be missed.
K
Karen Gallo
August 28, 2020
RIP Wayne. My Condolences to the Stuart Family during this difficult time. It truly was a pleasure knowing Wayne and Working with him during his time with Orland Dispatch.
I looked forward to running into Wayne in the Administration hallways. When things got crazy, He would always have something to say that would balance things out for the better. Thank you Wayne for those cherished moments. Deepest Sympathies to the Stuart Family.
Jackie Johnson
August 28, 2020
Wayne always had a smile on his face. He had a great sense of humor. My deepest sympathies to his family. Jackie Johnson
H
Howard Stephens
August 28, 2020
On behalf of the Mokena Fire Protection District, I wish to offer our deepest sympathy to the Stuart family on the sudden passing of Wayne. Chief Howard Stephens Mokena Fire Protection District
J
Joe Shefcik
August 28, 2020
I worked with Wayne at Mokena Fire and he took the time to show and explain things to me when I was new. For that I was grateful.