Sign In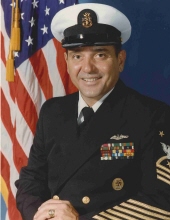 James Kikis
On 12 August 2020 TMCM(SS) James A. Kikis (Jimmy the Greek) left us to join his mother Florence Poulakos Kikis and father Anthanasios Stavros Kikis in heaven at the age of 76. Born April 5 1944, he joined the Navy shortly after high school, a decision that that culminated in a extremely successful 30 year Naval career, where he established himself as a legend dedicated to the US Submarine service. While stationed in Hawaii he met and later married the love of his life Jungim (Kiku) Kikis on 26 August 1981. In 1983 they were blessed with the birth of their lovely daughter Diana (Kikis) Clark. Following his retirement from the Navy he remained active and supportive in numerous Veterans organizations. He was especially fond of attending various submarine reunions, and catching up with previous shipmates. He continued his government service working as a mail carrier for the US Postal Service in Oviedo, Florida until his final retirement and move to New Braunfels Texas. He was mentor to all and made everyone he met a better person. He loved traveling, cooking Greek food, having thoughtful, often hilarious discussions and spending time with his family and friends. He is survived by his loving wife Jungim Kikis, daughter Diana Clark of New Braunfels TX, Grandsons Kenneth (KC) Clark II, Kayden Clark and Declan Clark of New Braunfels TX. Brother Tommy (Sue) Kikis of Houston TX. Sister Demetra (Dee) Petry of Saint Louis MO. Niece Hyun Joo (Andrew) Kim of Los Angeles CA. Nephew Ji Hun (Allie) Lee of Toledo OH and numerous other nieces and nephews. A celebration of Life event is pending and schedule will be promulgated when available. If you would like information on the funeral services please reach out to a family member, services will remain private.
April 5, 1944
-
August 12, 2020
04/05/1944
08/12/2020
Recommend James's obituary to your friends.
J
John & Rose Veverka
August 21, 2020
Jimmy was a great leader, example and shipmate we appreciate all that he did for our Navy, Country and the Submarine Service. God Bless his family.
T
Todd kikis
August 28, 2020
We are also the children of James Kikis, Matthew Todd Kikis and Christina Danielle Kikis (Schallock) would like to ask our father Rest in peace
W
With love, Allen, Jennifer and AJ Salmons
August 26, 2020
Kiku, Diana, Kenneth, Kayden and Declan, We were so sad to hear about your loss. We send you our deepest condolences. He was a truly good man.
C
Christopher and Lilia Kounter
August 25, 2020
I had the pleasure of meeting Jim and Kiku in the early 1980's after the were married in Hawaii, they were friends of my Father Walter and the late Yvonne Trahan, he will be dearly missed by Submarine community and my Father Walter Trahan. Deepest Condolences to to Kiku ...
Continue Reading
S
Sister Dee Petry, and the Lampertz, Petry & Krebs family.
August 25, 2020
"James Kikis" will remain in our hearts forever.
1 memorial tree were planted in memory of James Kikis.
T
Tribute Store
August 25, 2020
Our thoughts and prayers are with you. With love, Tom and Sue Kikis, the Liddle and Bloch families.
D
Daniel Osorio
August 18, 2020
I had the pleasure of meeting Jimmy when my wife Introduced him to me as Uncle Jimmy. Jimmy was a well loved and well respected family friend to my in-laws that I know we will all miss dearly. One memory I have of Uncle Jimmy was when he visited my wife and I while we...
Continue Reading
K
Kurt Kessel
August 17, 2020
The Greek and my COB on the SSN718 were great friends and they influenced all their sailors in a positibe way. Master Chief Kikis rode us every chance he got. I'll always remember him signing off his letters with "Take Charge". He attended my CPO initiation at Ballast P...
Continue Reading
J
Jeff Dilick
August 17, 2020
Truly a legend like no other. Thanks for the friendship and mentoring Jim. Condolences to the Kikis family.
G
Gary G Johnson
August 16, 2020
Jimmy was a Submarine Legend!! Mentor, Leader and Friend to thousands of Submarine Sailors.... He was a friend, shipmate, mentor and a father figure to me. I will be forever grateful for the influence he had on my life and my career. The Submarine community has lost a t...
Continue Reading
E
Eldon Peck
August 15, 2020
One of my best friends ever. We had many good times together, I was the "token a-ganger" with all the TM's. Love ya buddy, RIP.