Sign In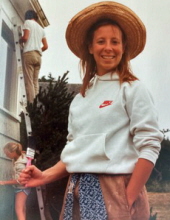 Kristine Starr Beam
An Obituary for Our Beloved, Kris Beam After an eight-year battle with chronic pain, Kristine Starr Beam chose to pass on from her body. On July 6, 2020 she walked peacefully into the waters of the Willamette River, along which she spent so much of her life. Kris was born in Portland, Oregon on July 24,1957 to Sharon and Jim Yoes. She was the middle of three kids, between her older brother Pat and younger brother Dan. Kris loved water. While growing up in southwest Portland she swam laps in the family pool for fun, exercise, and to de-stress. She and her family also skied on the frozen, crystalline waters of Mt Hood. She graduated from Sunset High School in 1975 and after a year at Portland Community College transferred to the University of Oregon. At the age of 19, she and future-husband Rick met while waterskiing on the Willamette River. Their relationship grew during college with happy memories inner tubing on the Willamette and trips to the coast, especially to Heceta Head. After graduating with a degree in education, Kris and Rick lived together in Portland until he completed medical school. They were married in 1984. Then they were off to Wisconsin for three years for residency, where Kris taught first at a school in Milwaukee and later at a rural parochial school. During their time in the Midwest, they were lucky to experience the region's many rivers and lakes. Missing the Northwest, they returned to Portland and settled in West Linn. Kris' water broke twice, heralding the arrival of Michelle in 1987 and Ryan in 1991. During her early years as a mother, she took up windsurfing, most often in the Columbia River Gorge, which holds an especially special place in the hearts of Kris and her family. During this time there were also many joyous trips to the family beach house in Rockaway. Through the years there was plenty of camping, rafting, kayaking, snorkeling, swimming, and stand-up paddle boarding. And, of course, Kris also loved hot bubble baths, showers, and hot tubs. In addition to water, Kris loved people. She was incredibly social and would strike up a conversation with just about anyone. She leaves behind a network of amazing friends, especially in the West Linn area. Kris was a person who saw the true nature of things. In her paid work as a reading teacher she looked for the curiosity in struggling learners, seeking books that would spark excitement in her students' hearts. Recently, one of her dearest students made it to college and she was so deeply proud. She was a creator of habitats that nurtured birds, bees, and her friends and family. Over 25 years she turned a basic suburban backyard into a certified, thriving haven for birds and other pollinators. To sit in her creation is to watch decades of love, care, and curiosity in bloom, while dozens of native species bask and zip around you. Kris was driven by a deep, authentic curiosity for her fellow human. She especially took an interest in each and every one of the many young people who came into her life as they flowed through life's phases. Many people say that they felt authentically seen by Kris and that in her they could see and feel an amazing joie de vivre. Her child-like silliness and playfulness sent her bounding up hills, mooning people on road trips, and standing elated on peaks, even between periods of deep struggle with chronic pain. She threw a mean dinner party, and if you were a close friend closing the book on another decade, she was liable to throw you the birthday party of your life. She was a great facilitator of connection and a central binding force for her blood family and her chosen family. Everyone knows Kris would have demanded this entire month of July be in celebration of her birthday. Not because she was self-centered but because she seized every opportunity to bring people together, again and again and again. Kris found enjoyment in gardening, games, puzzles, small dogs (wieners, bichons, and mini-labradoodles), bike rides, red wine, mahjong, and fart machines. Eight years ago she developed excruciating, debilitating back pain. Despite courageously fighting through three surgeries and pursuing many strategies for healing, she continued to suffer prolonged flares of pain. The depth of her pain was often obscured by her beauty, smile, ferocious perseverance, grit, deep motivation to see her dreams come to fruition, and her desire to be present with her loved ones. She struggled and thrived through so many years thanks in large part to the many wonderful people in her community who showed up for her time and time again. Always brave, and always poetic, Kris chose to end her life by returning to the waters of the Willamette. Kris leaves behind her parents Sharon and Jim Yoes, the love of her life and husband Rick, her daughter who she loved to the moon and back, Michelle, her son and sunshine Ryan, brothers Pat and Dan Yoes, sisters-in-law Judi and Beth, nieces and nephews Carissa, Caitlin, Josh, Avery, and Drew, mother-in-law Ruth, and brother-in-law Roger Beam. A celebration of Kris' life will be held at a later date, yet to be determined. Kris and her family suggest remembrances go to Friends of the Columbia Gorge.
July 24, 1957
-
July 8, 2020
07/24/1957
07/08/2020
Recommend Kristine's obituary to your friends.
D
Dave and Janine
October 10, 2020
We miss her so much. Kris brought life to any gathering. She was also one of the few that could call out Rick on his "unique" humor. :)
V
Valerie Downey & the Soose Family
August 11, 2020
Rick, Michelle, Ryan: We are thinking of you and offer our heartfelt condolences to you and your entire family/community at this difficult time.
T
Tribute Store
August 10, 2020
Rick, Michelle and Ryan, We are holding you in our hearts. We have many special memories of Kris and all of you. Sending love to you all
P
Peggy Eurman and Terry Morrow
July 23, 2020
I hope these trees will nurture the earth, air and planet, just as Kris did. May her goodness live on. We love you all.
K
Katie & Eric iverson
July 20, 2020
Kris will always be alive in our hearts. What joy she brought us. We are sending you our love and support now more than ever.
P
Paul and Sue Sumpter
July 18, 2020
The memory of Kris, such a remarkable, loving woman, will live on through the many plants she tended and the trees that will grow in her honor.
P
PAUL TRAVERS
July 18, 2020
My thoughts and prayers are with the Beam Family.I loved Khris!!!!!Paul Travers
m
maureen a wright/lane brown
July 17, 2020
With heartfelt condolences,
P
Pat Smith
October 18, 2020
Rick, humorous memories of learning to water ski with Kris and the group. I wish you peace.
1 memorial tree were planted in memory of Kristine Starr Beam.
S
Sue Sumpter
August 30, 2020
Last summer Kris, Jette and I were in Hood River at a cider bar which happened to host a salsa group who practiced there each week. At one point they invited people to come join them and learn a dance. Kris and I enthusiastically got up to join in. Jette, the sensible on...
Continue Reading
W
Wendy Mednick
August 5, 2020
My sincere condolences on the loss of Kristine. May her memory be a blessing. Wendy Mednick
D
Deborah Melville
August 4, 2020
A shining light is gone, but I will remember your warmth for the rest of my days. Because of you, I discovered fairy gardens, hiked the Pacific Crest trail and embroidered by a lake. I will miss visiting in your garden, but will see your touch in mine. Jigsaw puzzle a...
Continue Reading
T
The Roncevich Family
July 31, 2020
Grief and love are sisters, woven together from the beginning. Their kinship reminds us that there is no love without loss, and no loss without love.
1 memorial tree were planted in memory of Kristine Starr Beam.
A
Andrew and Rosy Levy
July 26, 2020
In memory of Kris, wishing you peace to bring comfort, courage to face the days ahead and loving memories to forever hold in your hearts.
1 memorial tree were planted in memory of Kristine Starr Beam.
Rick, Michelle and Ryan, I accepted your invitation to join you for a moment on our knees to really pause, to honor and savor the difficult gift of undeniable grief that Kris has so graciously given us all. I have to admit I would rather drop to my knees and roll to t...
Continue Reading
M
Mike, Carolyn, John, and Peter Bonoff
July 22, 2020
Our hearts go out to the Beams and we feel your loss. That was a beautifully written tribute to Kris. All our love.
1 memorial tree were planted in memory of Kristine Starr Beam.
S
Staci Petersen
July 21, 2020
Kris - your joyous essence and love will continue to live within our hearts and provide us peace and encouragement through the years. Love always.
1 memorial tree were planted in memory of Kristine Starr Beam.