Sign In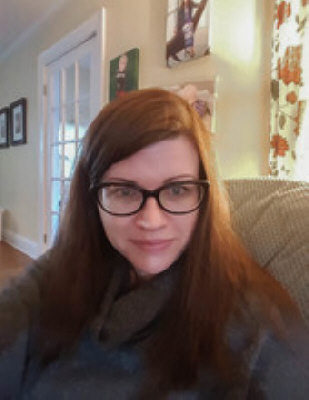 Heidi Beth Larson
The family would greatly cherish if you would share your memories, stories, and pictures of their beloved Heidi above. Heidi Beth Larson, of New Haven, CT passed away at the age of 45 on Tuesday, July 7. She was born on June 27, 1975 to the late Kenneth Larson and Barbara (Coombs) Larson in New Hartford, NY. She graduated from Ilion Central School District in 1993, attended college at Fredonia State, and completed her degree in Dietetics from Virginia Tech in Blacksburg, Virginia. She completed her internship at the University of Connecticut. She dedicated 17 years as a Registered Dietician at Yale New Haven Hospital, and truly loved her profession, the people it introduced her to, and the impact they made in each other's lives. To know Heidi is to know a vibrant, loving, and intelligent individual. She saw the very best in the people she loved and worked with, often going out of her way to do things for others or remember a detail about their lives. Heidi loved to travel and explore the world near and far with her treasured children and loved ones. She loved camping, hiking, and recent trips to Paris, Yosemite, Zion, and Grand Canyon National Parks. Heidi treasured Beach Week in Rhode Island with her extended family each summer. She loved and appreciated her time in nature, had a love for animals, and chose to be a vegetarian for over 20 years. In recent years Heidi developed a passion for genealogy. Building relationships through social media, she reconnected with cousins in Sweden and hosted three of her cousins in her home. As a Larson, Heidi loved her Chicago Bears. She treasured her pilgrimage to Solider Field with her sister, aunt, and uncle to witness the Bears beat the Rams in Dec 2018. Music and Art were a big part of Heidi's life, she loved creating art with her children, visiting museums and attending concerts. Heidi cherished her children, Olivia Nardone, Kenny Nardone, and Teddy Nardone. She is also survived by her significant other, Jamie Baldwin, her former spouse Corey Nardone, her mother Barbara Larson, siblings Kenneth Larson, Holly Garlock, Tracy Squatrito, Paul Larson, and Rebecca Larson, her aunts and uncles, Andrea Larson, William Larson, Edward and Marilyn Coombs and Patricia Coombs, her nieces, and many cousins. Heidi' s name brings a smile to those who knew her. Her generous, loving heart will be missed by so many. In light of community safety, friends will be invited to a Celebration of Life for Heidi at a future date to be announced. A service with attendance limited to her family will take place Tuesday, July 14, 2020 at 7:00PM. Friends are invited to view a <a href="https://youtu.be/Y0E9KAPToPs">livestream of the service</a>. The Riverview Funeral Home, 390 River Road, Shelton has been entrusted with her arrangements. In lieu of flowers, donations are encouraged for the Nardone Children Education & Wellbeing through <a href="https://www.gofundme.com/f/the-nardone-children-education-and-well-being-fund">https://www.gofundme.com/f/the-nardone-children-education-and-well-being-fund</a>.
June 27, 1975
-
July 7, 2020
06/27/1975
07/07/2020
Recommend Heidi's obituary to your friends.
Plant a tree in memory of Heidi
An environmentally friendly option
1 tree planted in memory of Heidi Beth Larson.
L
Love, Apple, Bike pa, RoRo, Christa, Joe, Marisa
July 20, 2020
What a loss yes this woman was so amazing I had the privilege to get to know her as Olivia's preschool Teacher she was awesome Mom friendly to all is a tribute alone her smile the talks we always kept laughter going she would say hey Annie praying for her children but th...
Continue Reading
V
Vanessa Salino
July 14, 2020
Working in oncology, we prepare for ourselves for the possibility our patients may pass away. Never could I prepare for the loss of such a special, thoughtful person. Heidi was not only a mentor, she was a friend. I will sorely miss our daily walks, these usually involve...
Continue Reading
I will miss her ever present smile. It was so easy working with her on smilow 8. Great mom and great work friend.
Butterfly was posted for Heidi Beth Larson.
A candle was posted for Heidi Beth Larson.
It is so hard to understand that Heidi, the bright young woman, hardworking and a mother of three wonderful children, now are gone, much too early. Four years ago, my sisters and I were welcomed in her home. We all appreciated her hospitality and her interest in her Swe...
Continue Reading
b
bo.aronsson@one.se
July 14, 2020
J
Janet Baldwin
July 14, 2020
Heidi was one of the kindest, most caring people we have ever met. She had the gift of truly listening to people and a unique and sincere way of making people feel special. She was admired and loved by the Baldwin family. Heidi will be deeply missed. Our prayers and ...
Continue Reading
T
Tribute Store
July 13, 2020
Rebecca and family, Wishing you peace and comfort in this time of great sorrow. With heartfelt condolences, Julia Bernd