Sign In
Joyce E. Wessels
JOYCE ELAINE WESSELS was born on March 10, 1929, to Thomas and Marie (Boelman) Reemts on the family farm near Ash Creek in Rock County, Minnesota. She spent her childhood years on the farm with her two sisters. She was baptized and confirmed at the State Line Ebenezer Church. She attended country school in her early years and graduated from Luverne High School with the class of 1947. She married her childhood sweetheart, Norman Wessels, on January 14, 1949, at the Presbyterian Manse at the State Line Ebenezer Church. The couple lived for a short time in Rock Rapids and then Ash Creek before settling in Luverne, Minnesota in 1954. Here they put down their roots and raised their family. Joyce began working at JC Penny Company in Rock Rapids while still in high school. She then transferred to the Luverne store where she worked until 1963. At that time, Joyce became manager of the Montgomery Ward Catalog store in Luverne where she worked until her retirement in 1985. During her retirement years, she attained her realtor's license and worked for Luethje's Realty out of Luverne. In their later years, the couple enjoyed splitting time between their home in Luverne, their cabin on Lake Shetek, and their winter escape in Weslaco, Texas. On Saturday, May 23, 2020, Joyce died peacefully at the Good Samaritan Society – Mary Jane Brown Home in Luverne at the age of 91 years, two months, and 13 days. Joyce was an active member of the Luverne Presbyterian Church where she served as a deacon, elder, and on various church committees. She belonged to the Esther Circle for over 50 years and then the Mary Circle for three years. She was a past matron of Eastern Star, president of the Luverne Tourist Club and the Mrs. Jaycees. Joyce was the first female president of the Luverne Chamber of Commerce and was active in many civic organizations while involved in business. She enjoyed spending time watching game shows, especially Jeopardy and the Price is Right, and completing her daily newspaper crossword puzzle. She loved spending time with her family and compiling family and area photo history books. Joyce is lovingly remembered by her husband of over 71 years, Norman of Luverne; her children, Linda Schoon (Dick Knapper) of Luverne, and Mark (Lin) Wessels of Rock Rapids; seven grandchildren; 16 great-grandchildren; her sister, Gladys (Herman) Walker of Sioux Falls, SD; and her in-laws, all from Rock County, Enore Boelman, Gertrude Wessels, Donald Schouwenberg, Lowell Wessels, Iva (Edwin) Elbers, Harold Wessels, Theresa Wessels, Douglas (Ginny) Wessels, David (Beverly) Wessels; and other family and friends. She was preceded in death by her parents, Thomas and Marie Reemts; son, Michael Wessels; her grandson, Andy Wessels; great-granddaughter, Lucille Sailor; and her sister, Dorothy Johnson; brothers-in-law, Stanley Wessels, Darrel Wessels, and Edwin Boelman; sisters-in-law, Sharon Wessels, Jolene Wessels, and Phyllis Schouwenberg; and niece, Kristina Martinez. In lieu of flowers, memorials may be directed to the Luverne Dollars for Scholars Program, the Sanford Luverne Hospice Cottage, or Autism Speaks.
March 10, 1929
-
May 23, 2020
03/10/1929
05/23/2020
Recommend Joyce's obituary to your friends.
H
Hartquist Funeral Home
May 29
H
Hartquist Funeral & Cremation Service
May 29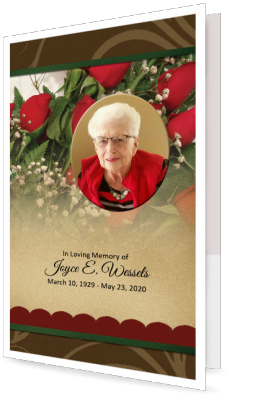 This custom stationery design was created by the Hartquist Funeral & Cremation Service for the Wessels Family.
I worked with Joyce at Montgomery Wards back in 1975-1977. She was a awesome boss to work for and we sure had a lot of great times there. My thoughts and prayers to all of you and let the memories help you heal. Spearfish, South Dakota
My condolences to all of the Wessels family on Joyce's passing . She was a wonderful lady and I will always be grateful for her welcoming me into her home in 85/86 as a young Australian exchange student . I will hold on to my fond memories of my time with the Wessels for...
Continue Reading
My condolences to ALL the WESSELS growing up with you guys were some of best childhood experiences, from watching our Dads play softball to catching lightning bugs in the cemetery, chipmunks 🐿 at the lake and of course fishing. I loved Joyce and she will be missed 😢
Loved going to the Luverne softball games and Joyce would always be in such a good mood and welcoming to us "kids". Such a classy lady!! Bill Meyer
Joyce always had such a quick wit... never missed a chance to make someone smile. Praying for your family at this time with such a giant piece missing now on this earth. May Jesus wrap His arms of love and peace around you all.
I will truly miss my good friend.
Butterfly was posted for Joyce E. Wessels.
Joyce lived her faith and touched many people with her kindness.
Our deep sympathy to the family.
Forget Me Nots was posted for Joyce E. Wessels.
K
Kris (Iveland) Waknitz
May 24
I had the pleasure of Joyce's company everyday while doing my job. I laughed with her, cried with her and shared my life with her. She was a wonderful lady with a great sense of humor. She was active and she always let you know how much she loved her family. To say she w...
Continue Reading
Candle of Memories was posted for Joyce E. Wessels.
Peggy and Dean Goettsch
May 24
Our sympathy to all of you. May God wrap his arms around you and give you comfort and peace.