Sign In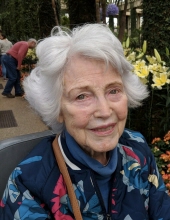 Sara-Page White
Sara-Page (Merritt) White, 92, resident of Crosslands, Kennett Square, formerly of Media, died on Thursday, April 2, 2020. She is survived by daughters Susan Supernavage (Richard) of Doylestown, Janet White (Ronald) of Newton, MA, Claudia Archer (Christopher) of Philadelphia, and four grandchildren. Sara-Page was a deeply loved wife, mother, grandmother, friend, gardener, and volunteer. A memorial service will be held on a future date. Contributions may be made to plannedparenthood.org. Childhood -- College Born on Mother's Day in 1927, Sara-Page Merritt White died on April 2, 2020, of complications from a fall. Mrs. White was born in Mount Vernon, New York to Josiah Merritt and Edith Reid Merritt. Her childhood was less than stable, as her family moved many times and had few resources. Attending college was a financial challenge and as a student, she took a job at the Ingleneuk Tea Room in Swarthmore, so that she could get a square meal most days. She graduated from Swarthmore College in 1949, moved into Philadelphia, and worked as a secretary. She fondly recalled her first apartment in the city, on Delancey Place. That apartment was adjacent to a doctor's office and lacked a full kitchen so dishes were washed in the bathtub. For a few summers, she and her friends rented "The Dam Site", a stone cottage by the Crum Creek in Swarthmore and the scene of weekend frolics for her friends escaping the steamy city. In 1952, she met Edward A. White, and despite being less than swept off her feet by the serious engineer, they began dating. Ed wooed her persistently and eventually convinced her to give him her hand in marriage. She said it was the best decision she ever made, and they remained a couple for 54 years, until his death in 2010. Raising a family Sara-Page and Ed moved to Media in 1955, into a brand new split level home in Riddlewood, a suburban tract built on a former horse farm. There they raised 3 daughters and built community. Sara-Page edited a neighborhood newsletter, organized a cooperative preschool and food buying club, and immersed herself in motherhood. She volunteered as a Girl Scout troop leader and as an aide in her children's school libraries. She gardened and sewed, learned how to upholster furniture and make drapes, and reveled in the domestic security she never had as a child. She was a good listener and an excellent note taker. She kept steno pads by every telephone and often took notes during phone calls. She had separate notebooks for each daughter, chronicling their phone conversations beginning when they left for college and continuing for many years. Hobbies/Interests She played tennis and enjoyed all kinds of fitness including Jazzercise, belly dancing and synchronized swimming. She attended fitness classes 4 days a week until about a year ago. Long time member of the Unitarian Universalist Church of Delaware County (1958-2010). Curious and open minded. While she didn't adhere to one religion or philosophy, she was open to wisdom, advice and self-improvement of any kind. She loved to read and was a supporter of, and volunteer with, public libraries throughout her adult life. Always a do-it-your-selfer, Sara-Page sewed clothes and costumes for her family and was a self-taught maker of everything for the home. Once she became an empty nester, she spent much more time gardening and shared her knowledge and passion for plants with her adult daughters. She always packed pruners on vacation and couldn't resist deadheading blooms and pulling weeds wherever she traveled. She was a very social creature, always up for a party and eager to arrange a gathering or dinner reservation. Sara-Page was an extraordinary hostess, gave countless dinner parties, and kept notebooks detailing menus and guest lists over many years. She especially loved decorating a table with foraged items from the outdoors and could make a flower arrangement with found items in any season of the year. Work : as a secretary at Towers, Perrin, Forster & Crosby (pre-children), Swarthmore Admissions and Economics (when her children were older) Volunteered with: Country Gardeners, Middletown Township Free Library (board member), League of Women Voters, Swarthmore Alumni '49 (Class Secretary for many years), Scott Arboretum At Crosslands - Gift Shop, Christmas Tea, Residents Association, Health Center, Landscape Committee Travel - always! Camping, Jersey Shore, National Parks, and many trips to Europe. She and Ed especially loved staying in Paris, Provence, and Switzerland. Caregiver Sara-Page was a helper. In the 80's, she spent many hours helping out 2 elderly, widowed, childless relatives on her husband's side of the family. She knew that no one else was going to do it, so she stepped up. She would do anything for her grandchildren - including bringing treats to their classroom on their birthdays, staying with them when their parents needed to travel, or covering for their parents when they were home sick from school. When she moved to Crosslands (a continuing care retirement community), she was a "younger old" person and she helped "older old" residents with errands and companionship for many years before becoming "older old" herself. In Summary Sara-Page leaves a legacy of love and joy. She always said her troubled childhood was the reason she enjoyed her adult good fortune and family so much. Her unconditional love for her family enabled the next generations to feel secure and strong. Since she had increasing dementia since suffering a stroke last May, she was living in a skilled nursing unit at Crosslands. If she had been able to understand the current pandemic health crisis (she was not able), she surely would have been focused on making sure her family and friends knew they were loved.
Recommend Sara-Page's obituary to your friends.
T
Tribute Store
April 16, 2020
3 memorial trees were planted in memory of Sara-Page White.