Sign In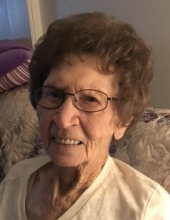 Velma Dorethea Clubb Northcutt
Funeral services for Velma Dorethea Clubb Northcutt will be held 11:00 AM, Saturday, February 15, 2020 at the Hale's Memorial Chapel in Davis, with Brother Randy Chapman officiating. Interment will follow at the Hennepin Cemetery. Dorethea was born December 23, 1928 in Hennepin to the late W.W. "Bounce" and Dovie Lee (Foster) Hedrick. She died Thursday, February 13, 2020 in Sulphur, at the age of 91 years, 1 month and 21 days. She and L.E. "Bear" Clubb were married on November 27, 1948 in Gainesville, TX. He preceded her in death on December 14, 1987. On September 21, 1991 she and Neil Northcutt were married in Hennepin. He preceded her in death on April 28, 2013 Dorethea grew up in Hennepin, graduating from Woodland High School. She made her home in Hennepin from birth until 1997, when she moved to Davis. She and Bear operated the D.X. Filling Station in Hennepin for many years, prior to her working as a seamstress for Kellwood. Dorethea was a member of the Davis Pentecostal Holiness Church. In her spare time she loved to knit and crochet. Survivors include her daughter, Karen Coppenbarger & husband Junior of Davis; her son, Mike Clubb & wife Terrie of Norman; six grandchildren, Justin Coppenbarger of Davis, Brian Clubb & wife Stacey of Norman, Jennifer Clubb of Jones, Susan Taylor of Norman, Robin Mosher of Edmond and Trisha Campbell of Moore; four great-grandchildren, Jessi Caldwell, John Caldwell, Matthew Clubb and Mallory Clubb, all of Norman; one sister, Joyce Yoder & husband John of Guthrie; a bonus daugther, Debbie Allison of Hennepin; a bonus son, Jim Harris of Comanche; as well as numerous nieces, nephews and cousins. In addtion to her parents and husbands, Dorethea was preceded in death by one son, Ricky Clubb; granddaughter, Kelli Caldwell; four siblings, sister, JoAnn Sandusky & husband Sam, brother, Bill Hedrick & wife Mary, sister, Oniece Pickett & husband Jim and brother, Bob Hedrick.
December 23, 1928
-
February 13, 2020
12/23/1928
02/13/2020
Recommend Velma Dorethea's obituary to your friends.
Plant a tree in memory of Velma Dorethea
An environmentally friendly option
L
Leon Longacre
February 13, 2020
I will greatly miss my Aunt. Many great memories of my wife and I staying all night with her. Setting in the living room visiting and laughing. Getting up in the mornings and her fixing a simple breakfast. We will miss you and your smile but will see you again. Your neph...
Continue Reading