Sign In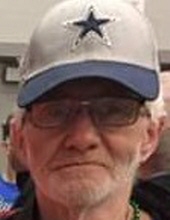 Darrell D. Parks
Parks, Darrelll D. "Dean" 3/28/1958-1/14/2020 Darrell Dean Parks was born on March 28, 1958 in Council Bluffs Iowa. He grew up in Council Bluffs attending Thomas Jefferson High School before joining the Marine Corp in 1975, where he was stationed at Camp Pendleton CA. Darrell served in the United States Marine Corp from 1975-1978. After an honorable discharge from the Marine Corp, Darrell and his wife Patti returned to Iowa where they had three children Monica, Daniel, and Bobby. Darrell lived in Bennington NE with his daughter Monica, son in law Seun, and grandchildren Danika and Ayo. He loved spending time watching the Dallas Cowboys, Nascar, and Jeff Dunham with his son Bobby. He also enjoyed spending time with his grandchildren. He could often be found attending his granddaughter's musicals and his grandson's soccer or basketball games. One of his most favorite things to do was spending time with the family dogs, Galahad, Beevo, and Lexie, often joking that they were his extra grandchildren. Darrell was an extremely hard worker and worked most of his life as a diesel mechanic. Most recently working at Bosselman since November 2018, he loved his job and all of the people he worked with. He looked forward to calling or texting his co-workers whenever the Nebraska Cornhuskers would lose. Darrell was preceded in death by son Daniel Parks and Father Darrell E. Parks. He is survived by children: Monica (Seun) Makinde, Bobby Parks; Grandchildren: Danika & Ayo Makinde and many other relatives and friends. Celebration of Darrell's Life: Monday, Jan. 20, 2020 at 11:00am at Braman Mortuary (Southwest Chapel) Interment at a later date will be at the Omaha National Cemetery. Darrell was a beloved father and grandfather. He will be in our hearts forever and missed every day.
March 28, 1958
-
January 14, 2020
03/28/1958
01/14/2020
Recommend Darrell's obituary to your friends.
J
Justin Salmons
January 19, 2020
I'm fortunate to have shared 16 years of my life knowing Darrell. He was a great coworker, at one time even my boss, and most of all a good friend. He will be missed and many prayers for his family! 😔
US Marines was posted for Darrell D. Parks.
U
Uncle Mike &Aunt Tammy
January 19, 2020
T
Tribute Store
January 17, 2020
M
Mike & Tammy Hamre
January 16, 2020
Tammy hamre
January 16, 2020
I have So many memories of Dean since I was 10 years old, Dean was the Best brother-in-law, , No matter what he was always thinking of family and always had a Smile, , I know he is at piece and is with Daniel again , I will Miss You Dean,
Forget Me Nots was posted for Darrell D. Parks.