Sign In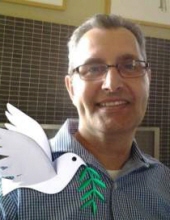 Ricardo Jorge Da Silveira
Ricardo J. Da Silveira, 55, of Cross St., East Providence, passed away unexpectedly at home Sunday, Dec. 29, 2019. Born July 17, 1964, in Terceira, Azores, he was a son of the late Lizuarte Liufino Cardoso Da Silveira and the late Maria Eduarda Pacheco Da Silveira. He leaves his sister, Bernardette Silveira of East Providence; four brothers, Lizuarte Da Silveira of also of East Providence, Elizeberto Silveira of Faial, Azores, Fernando Da Silveira of Kensington, CA, and Robert Da Silveira of Cumberland. He also leaves 1 niece and 4 nephews, and 1 great niece and 6 great nephews. A funeral service will begin, Monday, January 6, at 10am in the Rebello Funeral Home and Crematory, 901 Broadway, East Providence, with burial following at Gate of Heaven Cemetery. Visitation will take place Monday morning before the service from 9am until 10am. Relatives and friends are invited.
July 17, 1964
-
December 29, 2019
07/17/1964
12/29/2019
Recommend Ricardo's obituary to your friends.
Plant a tree in memory of Ricardo
An environmentally friendly option
B
Brian Hubbard
January 4, 2020
I am sorry for your loss Richard was a really nice man and I enjoyed working with him at Electric Boat
A candle was posted for Ricardo Jorge Da Silveira.
B
Bernardette Silveira
January 4, 2020
You will be missed in my Heart forever you will be I Love You Richard Da Silveira RIP
I am deeply saddened to hear of the loss of such a kind,gentle,loving ,humble,generous,man as Richard was.I will miss his sense of humor and laughter which came easily to him.Such a honest soul, may the angels welcome him into their group as a true angel from this life t...
Continue Reading